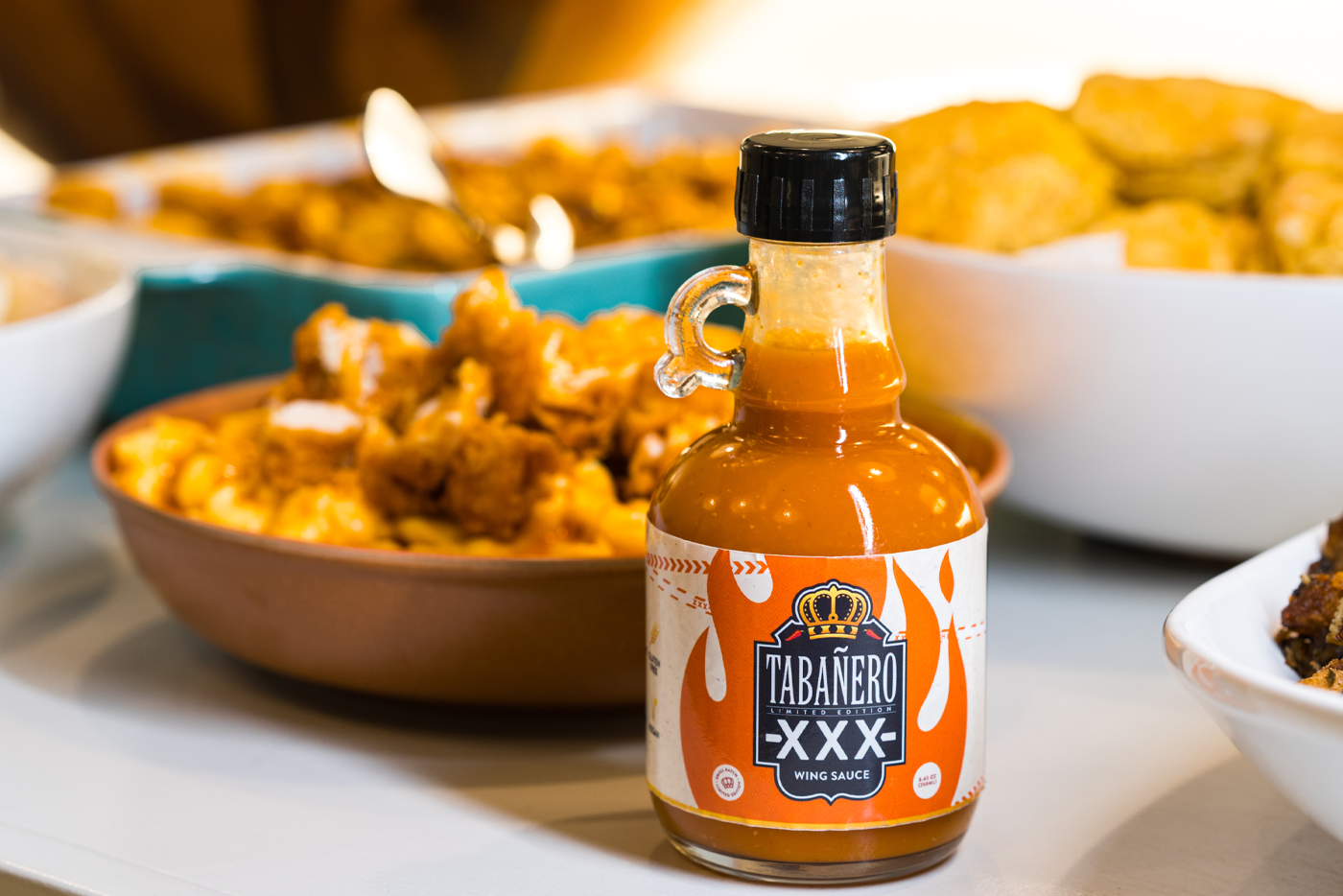 Buckle up because we're taking mac & cheese to the extreme this holiday season. This XXX Buffalo Wing Mac & Cheese recipe transforms your typical cheesy side dish into a deliciously intense experience that'll make your heart race. Tabañero's XXX Wing Sauce coats crispy chicken tenders for fire flavor backed by a rich, creamy pasta base. If you're feeling brave, drizzle a little extra
Limited Edition XXX Wing Sauce
on top.
¼ cup Tabañero XXX Wing Sauce
8 oz chicken tenders, diced
3 tbsp cream cheese
1 cup of cheddar cheese, shredded
½ cup mozzarella cheese
3 tbsp all purpose flour
1/2 cup butter
1 tbsp mustard
1 packet ranch seasoning mix
8oz cavatappi
In a medium bowl, combine ¼ cup of butter with Tabañero XXX Wing Sauce. Toss diced chicken tenders until full coated and set aside.


Cook cavatappi according to the package instructions, drain and set aside.


In a large skillet, melt butter over medium heat. Whisk in flour, stirring constantly, until a light roux is formed.


Once the roux has formed, gradually whisk in milk and let mixture simmer. Stir frequently.


Turn the heat down to low and add mustard and ranch seasoning mix, stirring constantly until combined. After the spices are incorporated, add the cheddar and mozzarella cheese.


Once cheese is melted, add the pasta and chicken and combine.

Transfer mixture to a greased baking dish and top with additional cheese if desired.


Bake at 375℉ for 20-25 minutes or until cheese is bubbling and lightly browned.


Remove from the oven and drizzle with Tabañero XXX Wing Sauce, ranch or blue cheese, and serve!