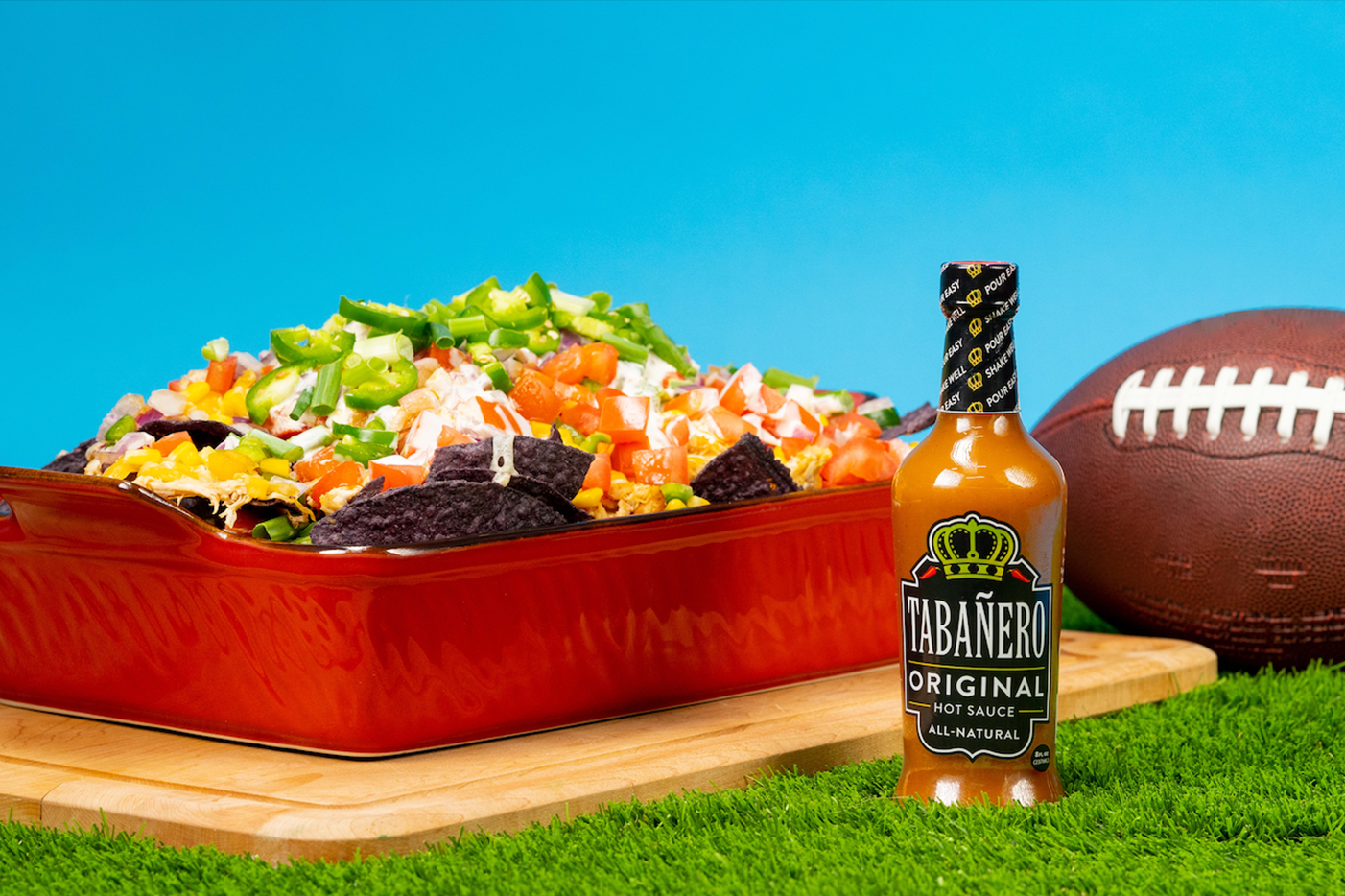 Even as rival teams come face to face at this year's big game, the sideline snack tables are sure to see just as much action as the football field. Tabañero Touchdown Nachos are the MVP this season. This pile-up is far from a fumble with spicy shredded chicken, fresh corn, onion, and peppers all melded with cheese atop warm, roasted tortilla chips. Drizzled with ranch dressing and
Tabañero's Original Hot Sauce
, each bite punts heat and creamy satisfaction right into your mouth. Make sure everyone eats like a champ at this Sunday's game with Tabañero Touchdown Nachos!
2 13-ounce bags of tortilla chips
3 cups shredded or chopped cooked chicken
¼ cup ranch dressing
2 cups shredded cheese (Mexican Blend, Monterey, or Cheddar recommended)
1 cup canned or fresh corn
1 cup of bell peppers, diced
2 medium red onions, diced
3 large tomatoes, seeded and finely chopped
3 small jalapeñeo peppers, diced, seeds removed
¼ cup chopped green onion
Preheat the oven to 350°F. Line a large, shallow baking sheet with wax paper. Spread tortilla chips in an even layer across the baking sheet.


In a large saucepan, toss chicken in Tabañero Original Hot Sauce to coat. Layer the spicy seasoned chicken and cheese on top of chips.


Bake for 5-10 minutes or until the cheese is melted.


Remove from the oven. Top with corn, tomatoes, and red onions.


Drizzle with ranch dressing and remainder of Tabañero Original Hot Sauce.


Top with jalapeños and green onion.


Serve warm and enjoy with friends and family while cheering on the champs!


For a little sweet heat, try Tabañero Spicy Agave Hot Sauce.