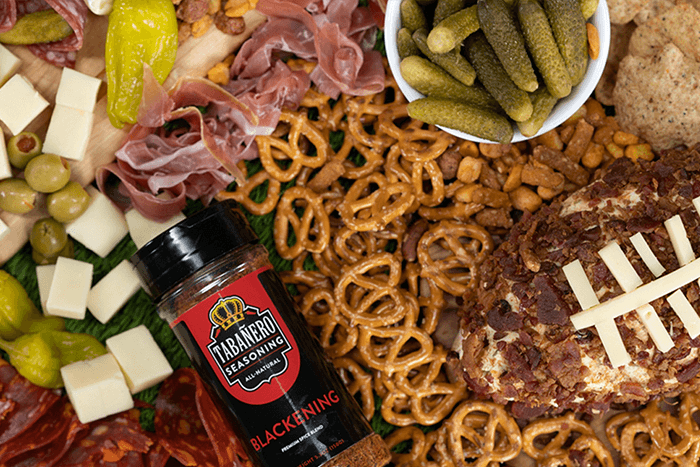 If you think game day is all about the food, you've come to the right place. Step up your tailgating game with this easy-to-assemble game day grazing board. Loaded with meat, cheese, and the boldest flavors, this board is sure to be a fan favorite.
Football Cheese Ball
16oz softened cream cheese
1 cup shredded cheddar cheese
1 cup bacon, cooked and chopped
1 jalapñeo
String cheese
¼ cup of Tabañero Blackening Seasoning
Plastic wrap


Other Charcuterie Items:
½ lb cheddar cheese, cubed
½ lb low-moisture mozzarella, cubed
1 wedge of Gouda cheese
1 wedge of Brie cheese
Cured meats - We used salumi, prosciutto, and capocollo
Pretzels
Multigrain crackers
Spicy nut mix
Olives
Pepperoncini
Cornichons (mini pickles)
Slice the jalapeño in half and remove the seeds. Finely dice and set aside.


In a large bowl, combine softened cream cheese, cheddar cheese, ½ cup bacon, diced jalapeño and Blackening seasoning.


Wrap the cheese mixture in plastic wrap and form the mixture into the shape of a football.


Refrigerate for at least 20 minutes.


Remove plastic wrap and press the remaining bacon to the outside of the cheeseball.


Cut the string cheese into small strips and lay them across the top of the cheese ball like football stitches.


Place football cheese ball on the serving board and use the additional meats, cheeses, crackers, and snacks to fill the board.


Best enjoyed with family, friends, and most importantly, football!