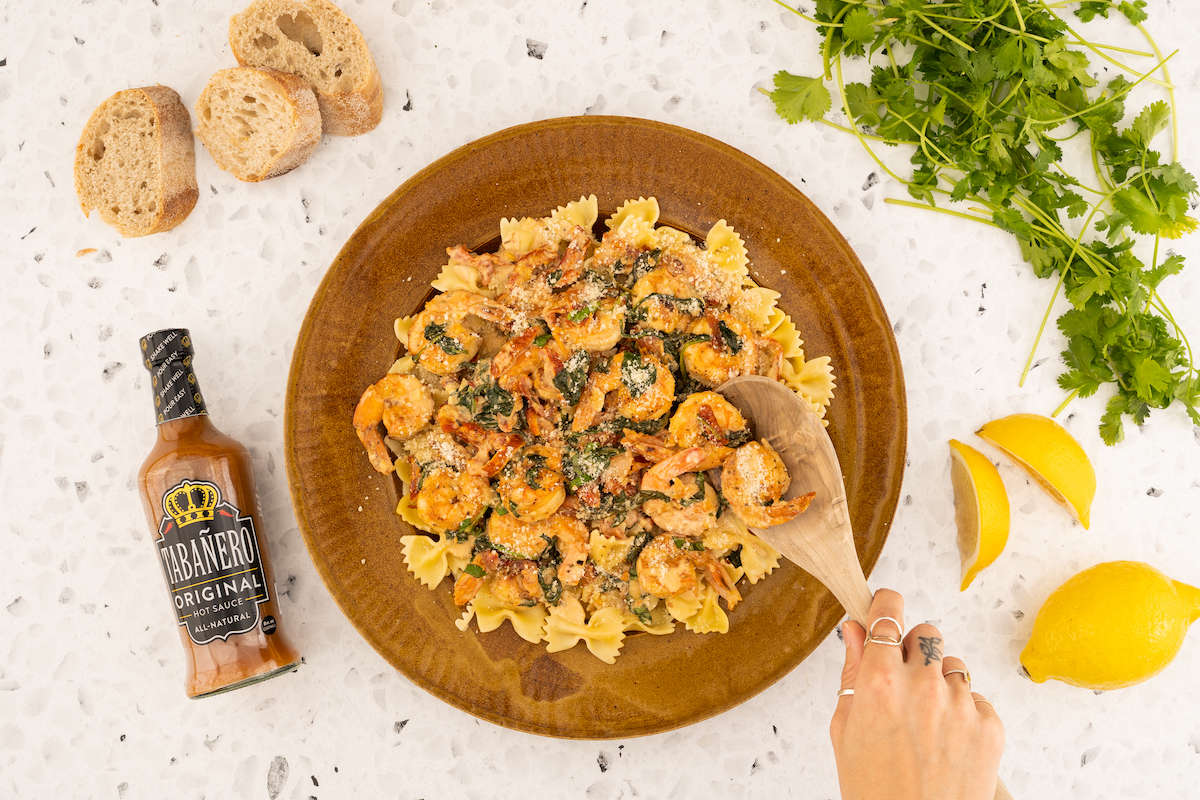 What's better than mouthwatering shrimp, you ask? The answer: mouthwatering shrimp that's been smothered in a delectable spicy, creamy sauce. And just when you think this savory delight has reached its peak, blending
Tabañero Original hot sauce
into its cream base sends your tastebuds into a Tuscan frenzy. Our hot sauce brings a crescendo of flavors to this beloved recipe by introducing fiery hints of heat—beautifully pacified by grated parmesan cheese, layers of decadent heavy cream, acidic, sweet sun-dried tomatoes, and the woodsy and delicate touch of rosemary. This dish full of Mediterranean heat can take you on a flavor cruise from the comfort of your own home. Cool off the spicy shrimp with a pasta or rice base and
buon viaggio
!
INGREDIENTS
2 slices bacon, chopped
2 tbsp olive oil
1 1/2 lbs jumbo raw shrimp, peeled and deveined
Salt and Pepper to taste
6 garlic cloves, minced
1 tsp dried rosemary
1 tsp dried oregano
1 tsp paprika
1 tsp crushed red pepper flakes
1/2 cup sun-dried tomatoes packed in oil, drained and sliced
1/2 cup dry white wine
1 cup heavy cream
1/2 cup Tabañero Original hot sauce
3 cups baby spinach
1/4 cup Parmesan cheese, grated
1 pound bow tie pasta
1 Lemon for juices and/or garnish
Handful of fresh Basil leaves for garnish
INSTRUCTIONS
Cook the bacon in a large skillet over medium heat. Cook until crispy and using a slotted spoon, remove bacon from the pan and save for later. In a separate pot, boil water and cook pasta to desired doneness while preparing the rest of the dish. Set pasta aside.
Add the olive oil to the bacon fat in the skillet. Over medium heat, and while the pan is getting hot, dry the shrimp with a paper towel. Season the shrimp with salt and pepper. Add shrimp to the pan seasoned side down, and season the other side with salt and pepper. Flip the shrimp just once, when it is pink and opaque, about 2 minutes per side.
Add the garlic, rosemary, oregano, paprika and crushed red pepper flakes to the skillet. Cook another 1-2 minutes just until the garlic is fragrant. Add the sun-dried tomatoes and cook for another minute.
Add the wine and deglaze, scraping the browned bits from the pan. Bring to a simmer for about 2-3 minutes, until the sauce reduces slightly. Stir in the heavy cream and Tabañero Original hot sauce, along with the spinach and parmesan cheese. Cook until the spinach is wilted, about 2-3 minutes.
Remove skillet from heat. Add bacon back into the skillet, combining it with the shrimp mixture. Pour pasta into the shrimp mixture and stir to combine the pasta with the sauce.
Garnish with the juices of a lemon (if desired) as well as fresh basil leaves.