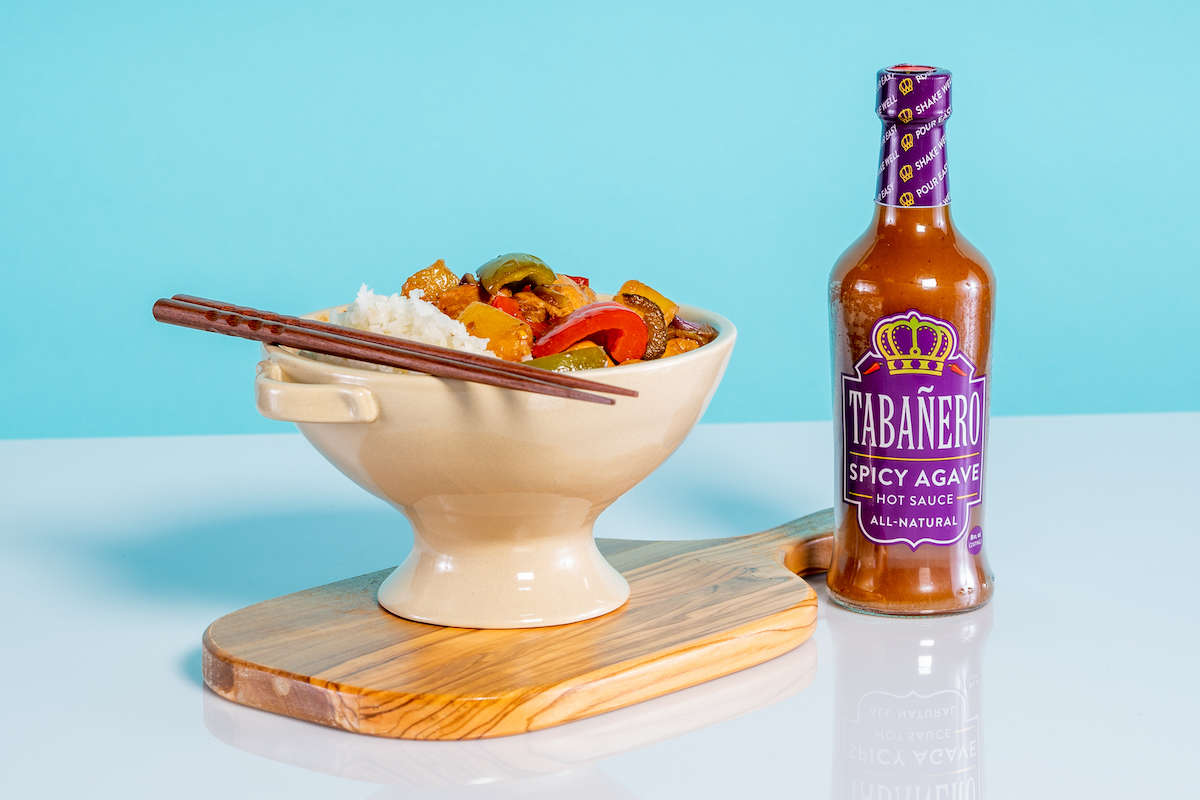 Tabanero's
Spicy Agave Hot Sauce
was MADE for this stir fry. No, seriously. We can't think of a more fitting, sweetly heated entrée to feature our savory favorite. Spicy Pineapple Chicken Stir Fry is an asian-inspired dish that packs a big punch of flavor into a party of zesty bell peppers, sauteed chicken, and succulent pineapple–all served over steaming cauliflower rice. Freshly-grated ginger, garlic, and onion mingle to create an aromatic and delectable sensory experience that will have you drooling. And once you add in the coconut aminos and Spicy Agave? You've created an unforgettable and beautifully layered culinary adventure. We can pretty much guarantee this won't be a one-time thing. This stir fry is about to become a spicy staple in your home.
INGREDIENTS
2 tbsp olive oil
2 lbs chicken thighs, cubed
1 tsp salt
1/2 tsp pepper
5 cloves garlic, minced
1 tbsp fresh ginger, grated
1 red onion, cut into chunks
2 tbsp green onion, sliced
2 jalapeño peppers, sliced
1 red bell pepper, cut into chunks
1 green bell pepper, cut into chunks
1 20 oz can pineapple chunks, drained (reserve the juice)
3/4 cup coconut aminos
2 tbsp Tabañero Spicy Agave Hot Sauce
1/2 cup pineapple juice
1 lime, juiced
1/2 tsp crushed red pepper flakes
1 tbsp arrowroot starch
1 tbsp water
INSTRUCTIONS
Cut chicken into bite-size cubes. Season with salt and pepper. Heat 1 tbsp oil in a large skillet and turn onto med/high heat. Cook chicken for about 4 minutes until just cooked through. Remove chicken from the pan and set it aside for later.
Drain the pineapple chunks, reserving 1/2 cup of liquid. Make the sauce by adding the pineapple juice, coconut aminos, lime juice, Tabañero Spicy Agave hot sauce, garlic, ginger, and pepper flakes to a bowl. Whisk to combine.
In the skillet, reduce heat to medium and add 1 tbsp oil. Add red onion, green onion, bell peppers, and jalapeño peppers. Sauté for about 3 minutes. Add the chicken back into the pan, along with the pineapple chunks. Cook for another 2-3 minutes.
Pour the sauce into the skillet. In a small bowl, add the arrowroot starch and water. Whisk to combine, then add that to the skillet. Bring to a boil, then reduce to a simmer. Continue to simmer until the sauce thickens.
Serve over cauliflower rice.