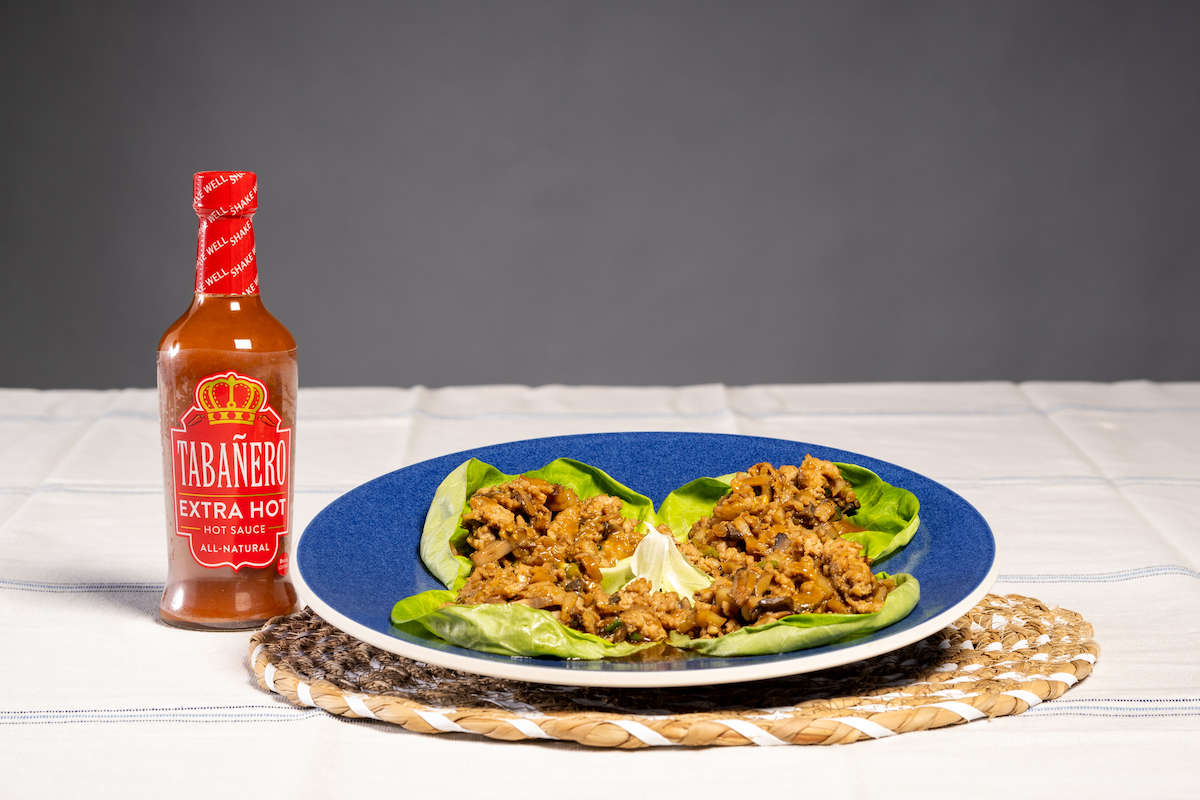 This chicken might be wrapped in lettuce, but it's saturated with excitement. That's right–Tabañero hot sauce can turn even the most unassuming lettuce wrap into a rebelliously spicy snack. Ginger, garlic, and coconut aminos give the chicken filling a tangy kick, while fresh, crispy lettuce offers ample structural support for a heavy-handed serving. Don't let lettuce wraps' innocent exterior fool you, though. Once you drizzle our homemade dipping sauce on these babies, there's nothing tame about the taste. A blended medley of dijon mustard,
Tabañero Extra Hot Sauce
, and coconut aminos slams the gas pedal on your joyride of flavor. Want to ramp up the thrill even more? An extra dash (or two) of Tabañero does the trick!
INGREDIENTS
Chicken Lettuce Wraps Filling:
1 Tbsp. Olive oil (or avocado oil)
1 pound ground chicken
8 oz. baby bella mushroom, diced
1 8 oz can water chestnuts, drained and diced
2 green onions, sliced
2 Tsp. fresh ginger, minced
4 cloves garlic, minced
1/3 cup coconut aminos (or soy sauce)
Lettuce leaves (1 head of butter lettuce, romaine hearts, or iceberg would work)

Dipping Sauce:
1/4 cup dijon mustard
1/4 cup coconut aminos (or soy sauce)
1 Tbsp. Tabañero Extra Hot Sauce (add more for more heat)
INSTRUCTIONS
Start preparing the filling by adding oil to a saute pan, on medium heat. Add chicken and cook for about 8 minutes or until fully cooked through.
Add mushrooms, water chestnuts, and green onions. Cook for about 3 minutes or until the vegetables are soft.
Add ginger and garlic. Cook for about 1 minute.
Add coconut aminos. Stir to coat the chicken mixture and cook for about 1 minute. Set aside.
Scoop filling onto the lettuce cups.
In a small bowl, whisk together the mustard, coconut aminos, and Tabañero hot sauce. Drizzle sauce on top of lettuce wraps.