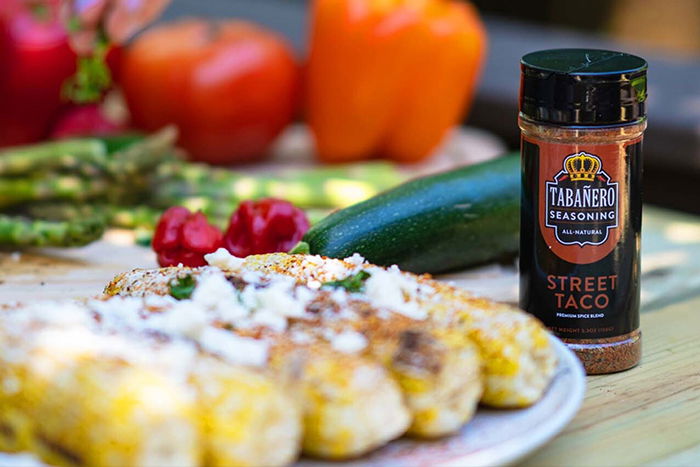 Fire up the grill! Get your back patio vibes on! We're ready for summer. If you're grilling out this Memorial Day, add a royal twist to your summertime fiesta. Not to worry--Tabañero has all things flavor covered. As a summertime staple, our street corn recipe complements just about any meal, and studies show that it's best served outside. There's just something about the charred corn kernels matched with Tabañero's Street Taco Seasoning that will have your mouth watering for more.
6 corn on the cob, shucked
1/2 cup sour cream
1/2 cup mayonnaise
1 clove garlic, crushed
Zest of 1 lime
3 tbsp of Street Taco Seasoning, plus more for topping
8oz cotija cheese
3 tbsp of cilantro, roughly chopped
In a small bowl, combine sour cream, mayonnaise, crushed garlic, lime zest, and 2 tbsp of Street Taco seasoning


Grill corn over high heat for 10-12 minutes or until charred on all sides


Remove corn from grill and brush with sauce until coated on all sides.


Top with crumbled cotija cheese, cilantro, and remaining Street Taco seasoning.