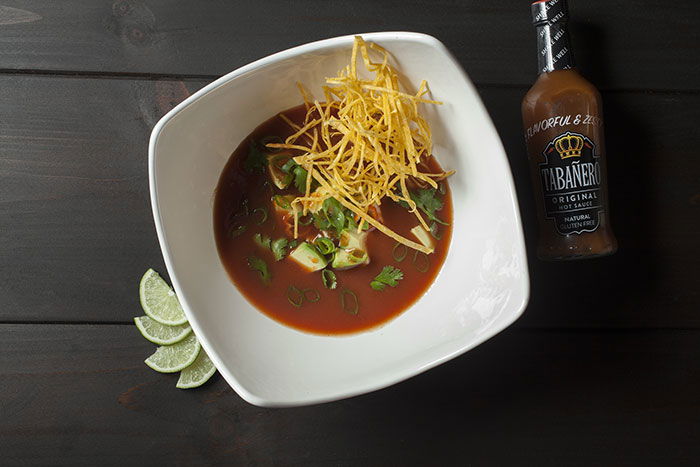 3 eggs
1 can fire roasted tomatoes
½ cup onions, finely diced
1 clove garlic, minced
1 tablespoon olive oil
½ cup Tabanero Extra Hot Sauce
cilantro, crispy tortilla strips, black beans & avocado to garnish
kosher salt and fresh cracked black pepper, to taste
1 tablespoon white vinegar
1. In a tall sided pot, bring 2 quarts of water to boil and add vinegar.
2. In a saucepan over medium high heat, add olive oil and onions, cook until translucent, about 3-5 minutes then add garlic and cook 1 minute further, being careful not to burn. Then add tomatoes and cook for 15 minutes over low heat, season with salt, pepper and Tabanero Extra Hot Sauce at the end of cooking.
3. Place sauce in serving dish and reserve warm.
4. Turn the boiling water down to medium and swirl water in a circular motion then add eggs one at a time. Cook until desired doneness and remove from water.
5. Place eggs in tomato mixture and garnish with cilantro, crispy tortilla strips, black beans & avocado