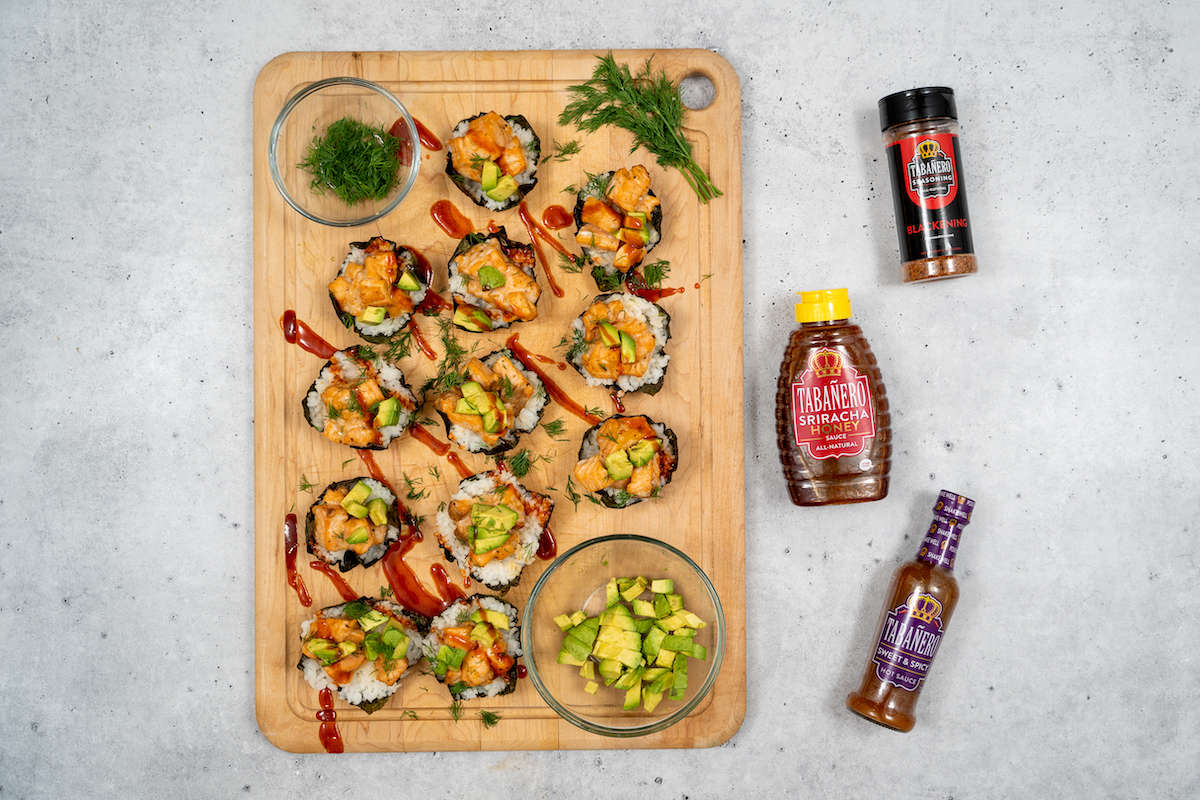 Think of these deconstructed bites as sushi's messy, spicy cousin. Like traditional sushi, enjoy these savory creations with your hands. But with a sturdy bed of rice and seaweed as the base, you're free to get wild with their sinfully enticing filling. Tender cubes of salmon coated in
Tabañero's Blackening seasoning
and
Tabañero Sweet & Spicy hot sauce
create a flavor worthy of unapologetic finger licking. And these seasoned salmon bites aren't complete without creamy avocado and fresh dill. Plus, a generous drizzle of
Tabañero Sriracha Honey
is sure to make your taste buds tingle.
INGREDIENTS
1 whole salmon filet, cut into bite-sized cubes
3 sushi seaweed sheets, each cut into 4 equal squares
3 cups cooked sushi rice
4 avocados, cut into small cubes
6 sprigs of dill, chopped
2 oz Tabañero Sriracha Honey
INSTRUCTIONS
Slice your salmon filet into cubes, then cut from the skin if you haven't removed it already.
Place your cubed salmon into a bowl and add your Tabañero Blackening seasoning and Sweet & Spicy hot sauce. Mix and set aside.
Cut your 3 seaweed sheets into 4 equal squares. You should end up with a total of 12 seaweed squares.
Place a spoonful of your cooked sushi rice onto each seaweed square and spread it to the edges.
Gently place your seaweed square and rice into a muffin tin to form a cup shape. The moisture from the rice should make the seaweed easier to maneuver without ripping.
Add a spoonful of your salmon mixture to each cup.
Move your muffin tin to the oven and bake for about 8 minutes at 400 degrees.
Top with slices of avocado and some dill. Add a drizzle of our new Sriracha Honey to take it up a notch – exclusively at Walmart!