Spicy Vegetarian Pad Thai
Regular price
$0.00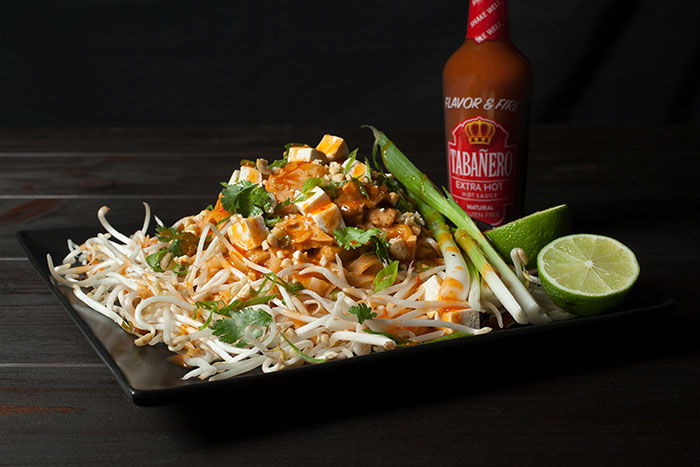 Recipe crafted by Chef Bobby Flay



8 oz. dried flat rice noodles (also called pad Thai noodles)
¼ cup soy sauce
¼ cup tamarind paste
3 tablespoons brown sugar, packed
1/4 cup+ Tabanero Extra Hot Sauce
3 tablespoons vegetable oil
4 large eggs, beaten until blended
1 bunch scallions, finely sliced, whites and green separated
1 14 oz. block firm tofu, diced into small chunks
2 cups mung bean sprouts
¼ cup roasted, salted peanuts, coarsely chopped plus more for garnish
cilantro leaves and lime wedges, to garnish
1. Place noodles in a heatproof bowl and pour boiling water over just to cover. Let sit 5-10 minutes until soft and pliable. Drain and reserve
2. Whisk soy sauce, tamarind, brown sugar, hot sauce and ¼ cup hot water.
3. Heat oil in a large wok or skillet over medium high heat, add eggs and scramble quickly stirring constantly. Once cooked, add the scallion whites and sauce mixture then noodles.
4. Cook stirring constantly until sauce is combined with the noodles then add the scallion greens and half of the mung bean sprouts. Toss to coat and then add the chopped peanuts. Return to heat and cook 1 minute more to combine
5. Transfer noodle mixture to plates and garnish with chopped peanuts, mung bean sprouts, cilantro and lime wedges
What's the word?
"I love that Tabañero Hot Sauce actually has some flavor to it, and isn't just adding heat to a dish with a mix of peppers and vinegar. The sauces blend of habanero peppers, carrots and lime juice give your dishes a hot kick with a zesty tang of citrus!"
VERIFIED PURCHASE
What's the word?
"Tabañero has the best Bloody Mary mix! Perfect flavor and spices with a freshly crushed texture. Even my friends who say they do not like Bloody Mary's admit they like this mix."
VERIFIED PURCHASE
What's the word?
"Yummy hot sauce! I love the heat and the depth of flavor and spices in Tabanero Hot Sauce. But the thing I loved the most was that it does NOT have any vinegar in it! You have a pure hot sauce with a hint of sweet, and all the ingredients are natural too. Definitely a winner!"
VERIFIED PURCHASE
What's the word?
"Yummy hot sauce! I love the heat and the depth of flavor and spices in Tabanero Hot Sauce. But the thing I loved the most was that it does NOT have any vinegar in it! You have a pure hot sauce with a hint of sweet, and all the ingredients are natural too. Definitely a winner!"
VERIFIED PURCHASE