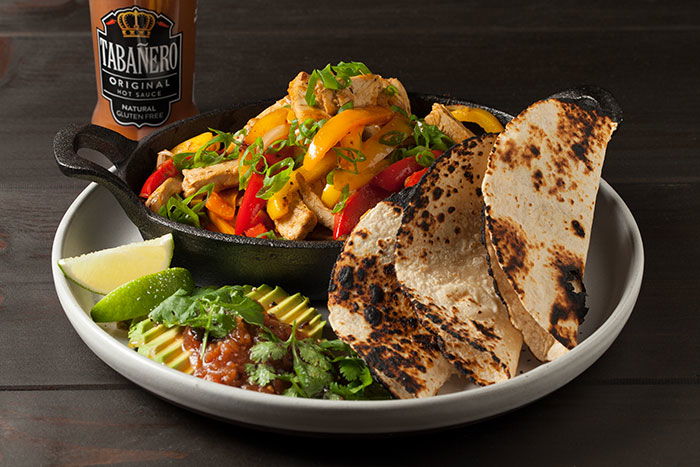 1 lb. Beyond Meat Southwest Chicken Strips
1 cup Tabanero Original Hot Sauce + more for serving
1 each red bell pepper & yellow bell pepper
1 each large sweet onion
12 whole wheat flour tortillas
3 each limes, cut into wedges
2 tablespoons soy sauce
fajita seasoning, to taste
kosher salt and fresh cracked black pepper, to taste
¼ cup scallions, sliced thin
2 tablespoons canola oil
avocado and salsa, to serve
1. Remove the seeds and ribs of bell peppers and slice into ¼ inch julienne. Slice the onions to the same thickness, mix with bell peppers and reserve.
2. Heat a sauté pan over medium high heat and add 1 tablespoon canola oil, sear chicken strips and season with salt, pepper and fajita seasoning. Cook 3-4 minutes until caramelized and a little crispy, remove from pan and keep warm
3. Wipe sauté pan and return to high heat, add 1 tablespoon canola oil and pepper / onion mix, sear over high heat until just cooked but still crunchy. Add Tabanero Original Hot Sauce, soy sauce and juice of 1 lime to the pan and toss, then remove from pan and toss with chicken strips
4. To serve, toast tortillas over open flame or grill until just blistered, place chicken fajitas in serving dish and garnish with tortillas, avocado, scallions, lime wedges, salsa and extra Tabanero Hot Sauce