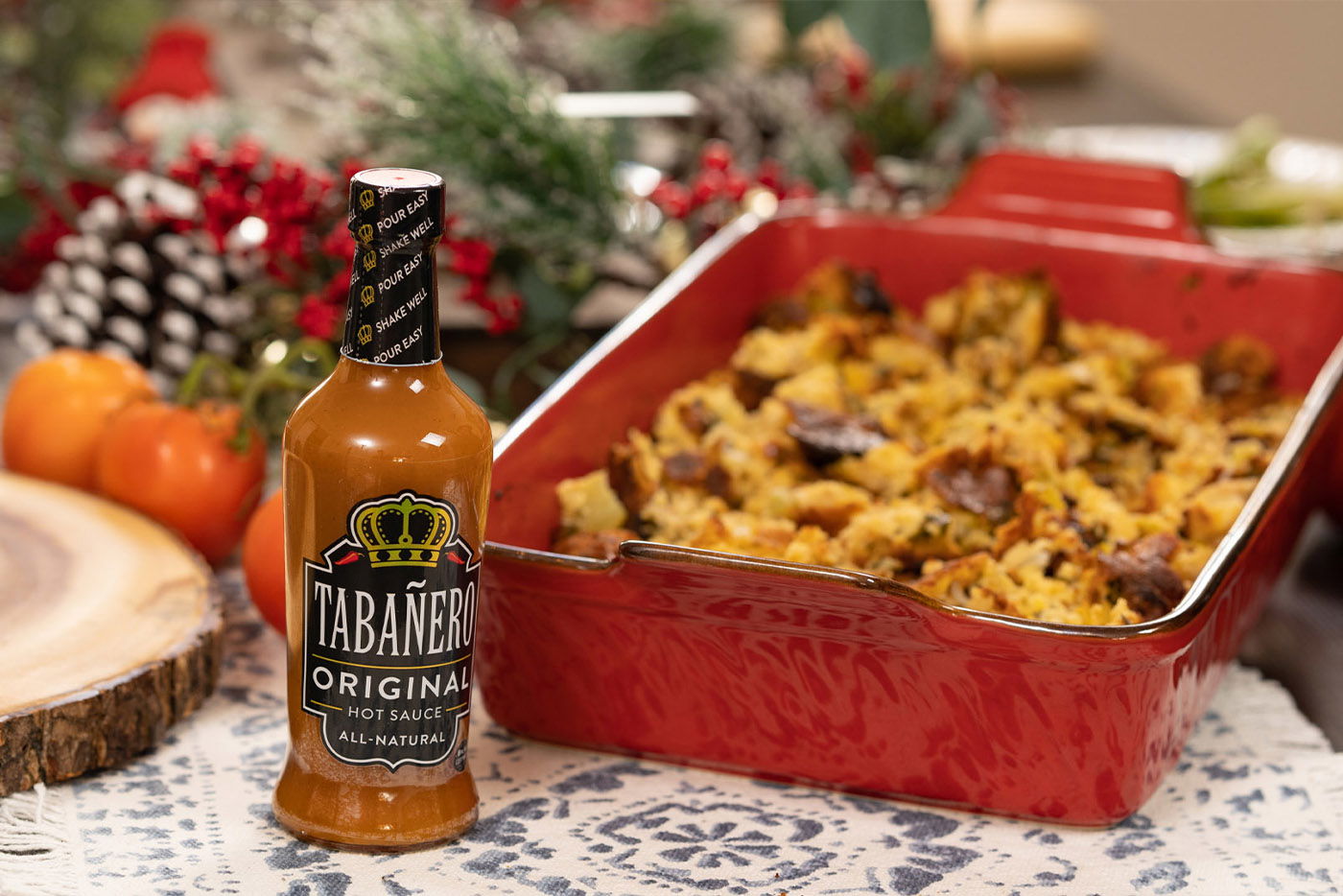 For too long, turkey has had a chokehold on our Thanksgiving feasts when it never deserved to be the star of the show. Okay, sure, it's presented naked and greased up. But ultimately, it lacks substance. Enter: Stuffing. The actual main character. All stuffing needs now is a makeover montage. This Spicy Southern-Style Stuffing recipe takes stuffing's nerdy glasses off and lets her hair down. This stuffing makes her grand entrance to the Thanksgiving table, satisfies with every bite, and leaves everyone wondering, "Has stuffing always been this hot?"
She is now.
1 stick of butter
½ lb bacon, diced
1 large onion, diced
2 cups diced celery
8oz pepper jack cheese, cubed
3 cups chicken broth
2 eggs
1 head of garlic, diced
6 cups cubed stale cornbread
8 cups cubed white bread
¼ cup chopped parsley
1 tbsp minced sage
1 tbsp minced thyme
Salt and pepper to taste
In a large saucepan, melt butter over medium heat. Add bacon and cook until browned.


Add onion, celery, garlic, thyme, and sage and saute until onion is translucent and garlic is lightly browned.


Add pepper jack cheese and stir until the cheese has melted.


Once cheese is melted, add chicken broth and bring to a simmer. Simmer for 5 minutes then set aside to cool.


In a small bowl, beat eggs with Tabañero Original Hot Sauce and parsley.


In a separate large bowl, add cornbread, white bread, and chicken broth mixture. Toss until combined then pour in the egg mixture.

Transfer the bread mixture to a buttered baking dish. Cover and bake at 375 F for 30 minutes, then uncover and bake until golden brown.