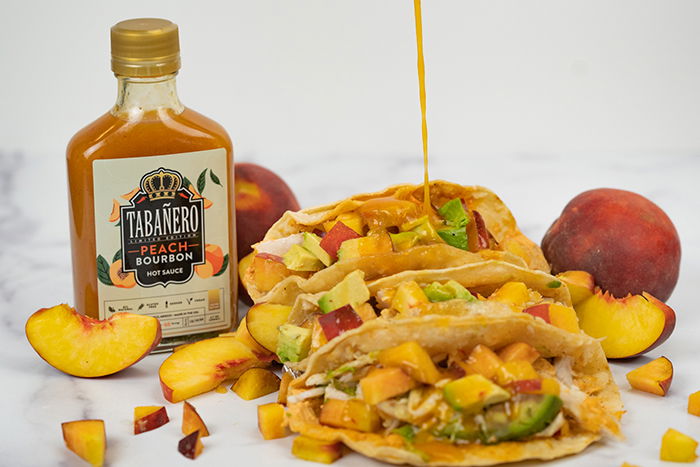 Planning on serving basic burgers and hot dogs at your next grill out? While there's nothing wrong with the classics, we suggest switching things up a bit with this quick and easy recipe featuring the best flavors of summertime. Packed full with juicy peaches and fresh fish, this light dish is an unforgettable addition to any summer cookout.
Makes 16 Tacos
2 lbs mahi mahi (can sub tilapia or other firm, white fish)
1 tsp chili powder
1 tsp smoked paprika
1 tsp cumin powder
1 tsp cayenne
1 tsp garlic powder
Avocado oil
Salt
Black Pepper
1 tbsp lime juice
2 ripe peaches
2 ripe avocados
½ red onion
2 ripe tomatoes
1 limes
¼ cup chopped fresh cilantro
16 corn tortillas
2 tablespoons of Limited Edition Peach Bourbon sauce, plus more for drizzling
Preheat your grill to 400 - 450 degrees (F).
In a small bowl, combine chili powder, smoked paprika, cumin powder, cayenne, and garlic powder. Add 1 tsp of salt and 1 tsp of pepper and mix until combined.
Generously coat mahi mahi filets with avocado oil. Sprinkle seasoning mixture until all filets are completely coated on both sides. Cover and refrigerate until ready to grill.
Remove the peach pits from both peaches, dice, and add to a medium mixing bowl. Dice tomatoes, avocados and red onion and add to the bowl.
To the bowl, add the juice of 1 lime, the chopped cilantro, and the Peach Bourbon sauce. Season to taste with salt and pepper. Stir to combine.
Once the grill is heated to medium-high, grill the mahi mahi for 4-5 minutes per side, or until cooked through.
Grill the corn tortillas for 1-2 minutes per side or until lightly browned.
Remove tortillas and mahi mahi from grill and begin assembling the tacos.
Top tacos generously with peach salsa and drizzle with Peach Bourbon sauce to taste.