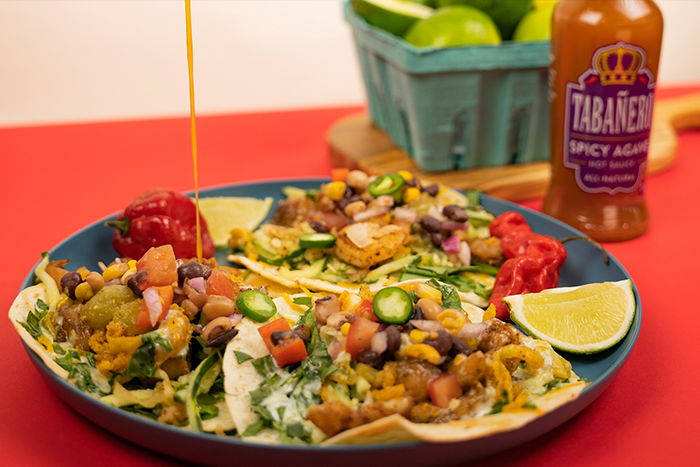 If you can handle the heat, you better get in the kitchen! Seasoned to perfection and topped with a spicy crema drizzle, this easy dish will take your weeknight meals up a notch. These spicy shrimp tacos can be made in under 30 minutes and require no grill to bring out their bold and savory flavors.

Serves 5
20 medium shrimp, peeled and deveined
2 tablespoons of Tabañero blackening seasoning
1 cup of chopped romaine lettuce
¼ cup sour cream
1 roma tomato, diced
½ sweet onion, diced
1 can of corn, drained
1 can of black beans, drained
1 shallot, thinly sliced
1 lime
1 jalapeño, diced
Olive oil
5 corn or flour tortillas
1. Combine shrimp, 2 tbsp of olive oil, and blackening seasoning in a medium bowl. Cover and refrigerate for at least 10 minutes.
2. Coat the bottom of a large pan with olive oil and heat on medium-high for 1-2 minutes. Add shrimp and cook until pink, about 4-5 minutes.
3. Remove shrimp from heat and add sliced shallot to the remaining oil. Fry until deep golden brown, remove, and drain on a paper towel.
4. In a separate medium bowl, add tomato, onion, corn, black beans, jalapeñeo, and the juice of one lime. Stir until combined and refrigerate until ready to serve.
5. In a small bowl, combine sour cream with 2-3 tbsp of
Tabañero Spicy Agave hot sauce
. More sauce = more heat!
6. Optionally, grill tortillas on the stovetop over the flame until lightly charred.
7. Assemble the tacos by adding a layer of romaine lettuce, a few spoonfuls of the black bean mixture, 4-5 pieces of shrimp, and a generous drizzle of the spicy agave crema.
8. Serve and enjoy!