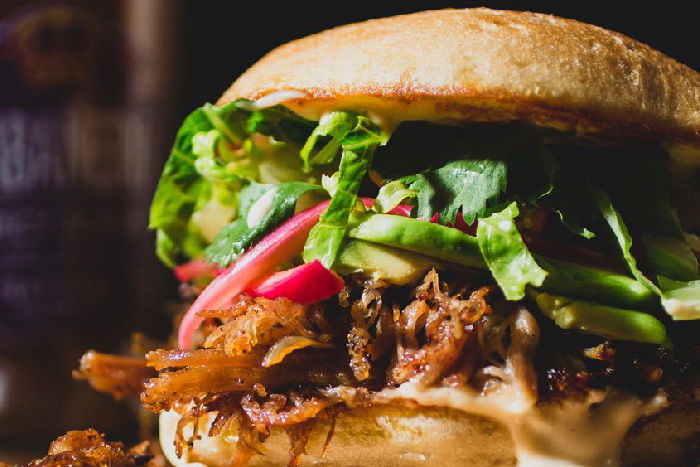 4 duck Legs
1 (12 oz) jar of duck fat
Olive oil
1⁄4 cup brown sugar
3 oz + 1⁄2 tablespoon Tabañero Spicy Agave hot sauce, divided
1 tablespoon dried oregano
1 tablespoon garlic powder
1 tablespoon ground cumin
1 tablespoon ground coriander
1 tablespoon mayonnaise
1 bolillo roll or torta bun, toasted
1 cup romaine hearts, shredded
1 avocado, sliced
1⁄4 cup cilantro, chopped
QUICK PICKLED RED ONIONS
1⁄2 cup red onion, sliced
1⁄2 cup red wine vinegar
1 tablespoon sugar
1⁄2 cup warm water
1. PICKLE the onions. Combine the sliced onions, red wine vinegar, sugar and water in a bowl and soak for 30 minutes.

2. PREHEAT your oven to 350oF.

3. PLACE the duck legs in a stock pot and cover with the duck fat. If needed, add olive oil until the legs are completely covered.

4. BRING the pot to a simmer, cover with foil, and cook it in the oven until the duck is tender, approximately 2 to 3 hours.

5. CHILL the duck in the fat until cool. Remove the legs and shred the meat into a mixing bowl, discarding the bones and reserving the duck fat.

6. SEASON the meat with the brown sugar, 3 oz of Tabañero Spicy Agave hot sauce, oregano, garlic powder, cumin and coriander, and mix well.

7. USE the reserved duck fat to sear the shredded duck on a skillet or plancha until it's crispy. Season to taste with salt and pepper.

8. COMBINE the remaining Tabañero Spicy Agave hot sauce and the mayonnaise in a small bowl, then spread it on the toasted buns.

9. PLACE the seared duck on the bun and top with pickled onions, avocado, shredded romaine and cilantro.