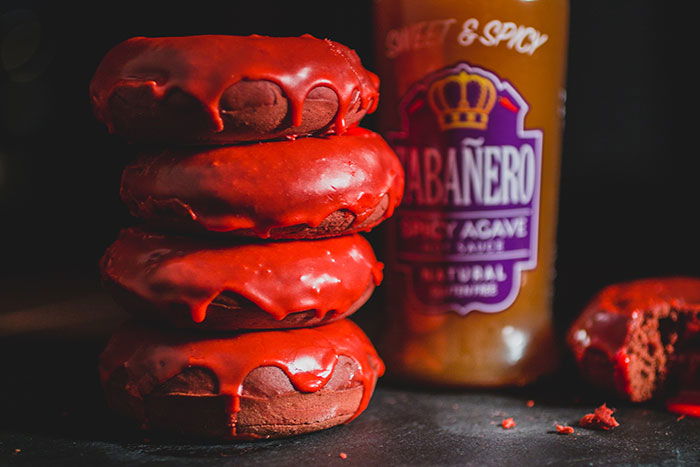 Recipe crafted by The
Naughty Fork // Sam Schnur
Total Time
30 to 40 minutes
Serving Size
6 to 8 donuts
3⁄4 cup cake flour
1⁄4 cup + 2 tablespoons all-purpose flour
1⁄2 teaspoon salt
1 teaspoon baking powder
2 1⁄2 tablespoons unsweetened cocoa powder
2 tablespoons unsalted butter, melted and cooled
1⁄3 cup granulated sugar
1 egg
1 teaspoon vanilla extract
1⁄2 cup buttermilk
1 teaspoon red food coloring
1⁄4 teaspoon baking soda
1⁄2 teaspoon white vinegar
LAVA FILLING
1 cup white chocolate melts
1⁄3 cup milk
3 1⁄2 teaspoons Tabañero Spicy Agave hot sauce
Pinch of cayenne pepper
1⁄4 teaspoon cinnamon
Red food coloring
GLAZE
2 cups powdered sugar
2 tablespoons milk
1⁄2 teaspoon red food coloring
1. PREHEAT the oven to 325 F.
2. MIX the dry ingredients together in a bowl. In a separate bowl, whisk the butter, sugar, egg, vanilla extract, buttermilk, and food coloring until well combined. Set aside.
3. COMBINE the baking soda and vinegar in a small bowl and let it create a foam.
4. STIR the wet ingredients into the dry ingredients, making sure not to over mix. Add the foam to the batter and stir until combined.
5. PIPE the batter into a well-greased donut sheet and bake for 10 to 13 minutes, until fully cooked. While the donuts cool, make the filling.
6. SIMMER one inch of water in a medium saucepan or pot. Rest a heat-safe bowl on top of the pot, making sure the bowl doesn't touch the water. Allow the steam to gently warm the bowl.
7. ADD the chocolate to the bowl, stirring occasionally until they're melted and smooth. Remove the bowl from the heat.
8. STIR in the milk until combined, then mix in the Tabañero Spicy Agave hot sauce, cayenne and cinnamon. Stir in the food coloring until you reach the desired "lava" color.
9. POUR the lava filling into a piping bag, then inject the filling into the donuts.
10. MEASURE the powdered sugar into a bowl and slowly add the milk, stirring until you get the desired consistency. Mix in the food coloring.

11. DIP the donuts into the glaze and set on a cooling rack to dry.