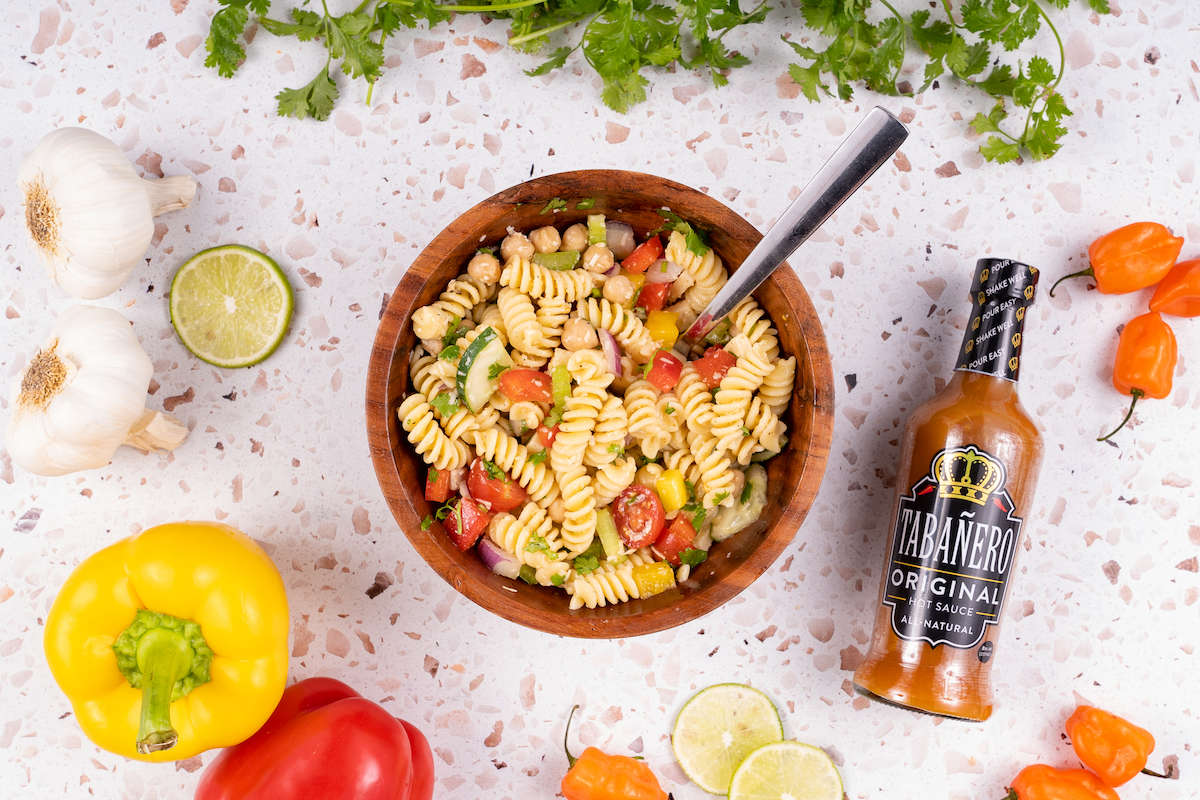 'Tis the season. Salad season. And we're not talking rabbit food and low-fat dressing, no no no. Thanks to Tabañero, pasta salad is taking its rightful place at the top of the summertime food pyramid.


But this isn't your mother's pasta salad — this is a tongue-tingling twist on the classic favorite. With each twirl of your fork into the vibrant medley, you get a bite of deliciously seasoned al dente fusilli pasta, fresh and colorful summer veggies, rich Parmigiano Reggiano, and Italian salami, perfectly complemented by the fiery kick of
Tabañero Original Hot Sauce
.
Whether you're hosting a summer barbecue, a casual picnic in the park, or just craving something bold, this pasta salad is ready to take your taste buds on a wild ride. So, embrace adventure, and get ready to push the boundaries of flavor this salad season.
INGREDIENTS
1 pack fusilli pasta
1/2 can garbanzo beans (whole can if you prefer)
1/2 cup cilantro chopped
1 cup cherry tomatoes halved
1 cup cucumbers, quartered and sliced
1/2 cup red onion diced
1/2 cup celery diced
1/2 cup to 1 cup bell peppers diced (any or all colors)
1/2 cup cup Parmigiano Reggiano, cubed
1/2 cup Parmigiano Reggiano, finely grated
1/2 – 1 cup salami, cubed (optional)
Drizzle of olive oil
Your favorite Italian salad dressing
INSTRUCTIONS
Cook your pasta, drain and drizzle with olive oil, salt and pepper. Make sure your pasta is pretty al dente, it will hold up much better! Also, season the pasta before adding the rest of the ingredients for extra flavor and adjust by tasting throughout.
In a large mixing bowl, add all dressing ingredients and Tabañero Original Hot Sauce. Whisk until emulsified.
Add the garbanzo beans, cilantro, cherry tomatoes, cucumbers, red onion, celery, bell peppers, Parmigiano Reggiano, Asiago and salami. Thoroughly combine and serve chilled!