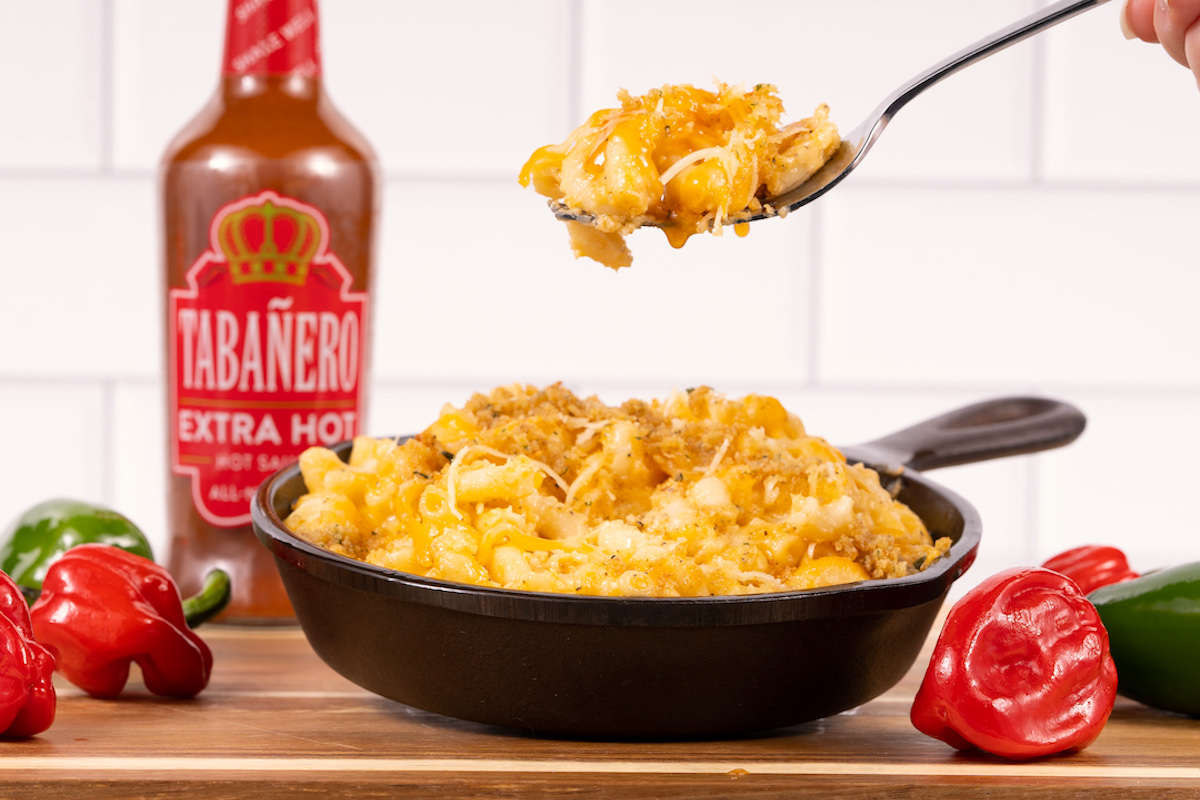 Let's reflect on humanity's notable achievements–modern medicine, fine music and art, the internet–real groundbreaking stuff. And yet, something's missing. In the highlight reel of mankind, no contribution exemplifies our collective vigor, our lust for life, more than this: Tabañero's Hot & Hefty Mac & Cheese. In creating this recipe, we've unlocked both physical and spiritual satiation. Every noodle is wrapped in warm, savory cheese that feels like a bear hug from your best friend. And with
Tabañero Extra Hot Sauce
intensifying the flavor and arousing your senses, each bite packs a first-kiss-level thrill. You'll probably start thinking about your life in "before spicy mac and cheese" and "after spicy mac and cheese" eras. Perhaps this macaroni is thick and gooey enough to unify the masses? Spicy enough to transcend manmade barriers to enlightenment? We're about to find out.
INGREDIENTS
1 pound elbow noodles
½ cup unsalted butter
½ cup all-purpose flour
1 teaspoon salt
½ teaspoon pepper
1 ½ teaspoon onion powder
4 cups milk
½ cup Tabañero Extra Hot Sauce
2 cups sharp cheddar cheese, shredded
1 cup breadcrumbs, optional
INSTRUCTIONS
Preheat your oven to 400 degrees. Lightly grease a 9"x13" pan and set aside.
Cook macaroni as directed on package using minimum cook time. Drain well. Pour noodles into prepared 9"x13" pan.
In a large saucepan, melt the butter over medium heat. Stir in the flour, salt, pepper, onion powder, and milk. Whisk until smooth.
Cook over medium-high heat, stirring constantly, for 3-5 minutes. Once the sauce starts to thicken, reduce heat to low, and whisk in shredded cheese and Tabañero Extra Hot Sauce. Stir until cheese is melted and mixture is smooth.
Pour cheese sauce over noodles in prepared 9"x13" pan and stir to coat. Add breadcrumbs on top if desired.
Bake uncovered for 10 minutes, or until lightly browned on top.
Serve hot!