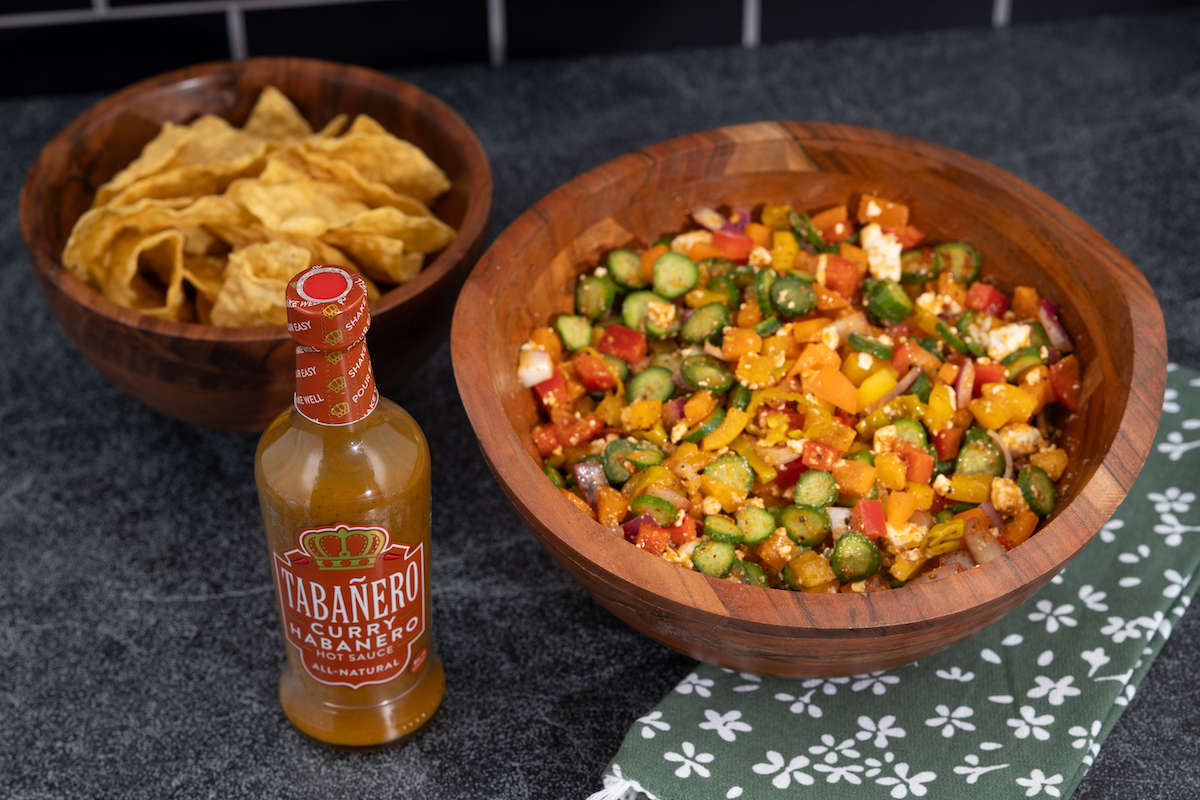 This isn't the H.A.G.S. you knew from your middle school yearbook. In order to
H
ave
A
G
reat
S
ummer, you need to
H
ave
A
G
reat
S
alad—we're here to help you with that. Tabañero elevates your summer salad game with a burst of fresh flavor and a kick of heat! This vibrant salad is a tantalizing fusion of fresh veggies, zesty spices, and the fiery magic of
Tabañero Curry Habanero hot sauce
.

Picture this: Three bell peppers, as colorful as a summer sunset, are joined by the zing of half a red onion, the crunch of baby cucumbers, and the tangy twist of pepperoncini. A sprinkle of garlic powder, a dash of paprika, and a liberal shower of freshly cracked black pepper take things from ordinary to extraordinary. Then a tantalizing blend of oil and vinegar ties all the elements together. Finally, the star of the show: Tabañero Curry Habanero hot sauce! It's a delightful rendezvous of sweet, spicy, and oh-so-savory notes that awaken your taste buds with a party on your palate.
INGREDIENTS
3 bell peppers
½ red onion
1 cup of baby cucumbers
Pepperoncini
½ tbsp garlic powder
½ tbsp paprika
½ tbsp freshly cracked pepper
½ cup oil and vinegar dressing
Crumbled feta cheese
INSTRUCTIONS
Start by chopping up all of your veggies to your desired size. This includes the bell peppers, red onion, baby cucumbers, and pepperoncini.
After prepping your veggies, add them all to a large bowl. Top with garlic powder, paprika, and freshly cracked black pepper.
Now it's time for the sauces! Pour in a generous amount of the oil and vinegar dressing and Tabañero Curry Habanero hot sauce.
Toss to combine, and then cover with the crumbled feta cheese.
Enjoy with chips, over rice, or a bed of lettuce!