Fuego Jalapeño Popper Burrito
Regular price
$0.00
Recipe crafted by Chef Bobby Flay



2 burrito-size flour tortillas
1⁄2 cup shredded cheddar cheese
1 cup frozen French fries, cooked
1⁄2 an avocado sliced
GRILLED CHICKEN
1 boneless skinless chicken breast
1⁄2 teaspoon chili powder
1⁄2 teaspoon garlic powder
1⁄2 teaspoon kosher salt
1⁄4 teaspoon black pepper
1 tablespoon olive oil
ROASTED CORN AND BLACK BEAN SALSA
1⁄4 cup frozen roasted corn, cooked
1⁄4 cup canned black beans, rinsed and drained
1⁄2 a small onion, chopped
1 small tomato, chopped
Pinch of salt
Juice of half a lime
1 tablespoon cilantro, minced
1-2 teaspoons Tabañero Extra Hot hot sauce
JALAPEÑO POPPERS
4 slices of thick cut bacon
4 large jalapeños, halved
lengthwise and seeds removed
1⁄3 cup cream cheese, softened
1⁄4 cup shredded mozzarella cheese
1⁄2 teaspoon garlic powder
1 teaspoon Tabañero Extra Hot
hot sauce
1. SEASON the chicken on both sides with
chili powder, garlic powder, salt and black
pepper. Heat the oil in a non-stick pan over
medium-high heat and add the chicken.
Cook for 4 minutes on each side until cooked
all the way through. Remove from the pan
and let it rest before slicing.

2. MAKE the salsa. Combine all of the
ingredients in a bowl and mix gently until well
blended. Set aside.

3. MIX the cream cheese, mozzarella, garlic
powder and Tabañero Extra Hot hot sauce in
a small bowl.

4. SPOON the cheese mixture into the
jalapeño halves, put the halves back together
and wrap each pepper in a slice of bacon.

5. PLACE the wrapped jalapeños in a
medium-sized, non-stick pan and cook on
medium heat. Once the bacon is fully cooked
on all sides, remove and set aside.

6. PREHEAT your oven to 400oF.

7. PLACE each tortilla on a large piece of
aluminum foil. In each burrito, divide the
sliced chicken and shredded cheese. Top
with half of the cooked French fries, sliced
avocado, and a scoop of salsa. Add two
jalapeño poppers and splash on Tabañero
Extra Hot hot sauce to taste.

8. ROLL the burritos and wrap them in foil.
Cook the burritos in the oven for 8 minutes,
or until the cheese melts.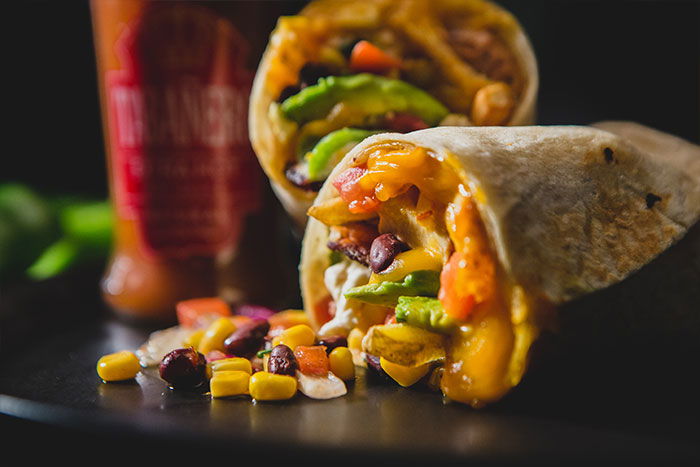 What's the word?
"I love that Tabañero Hot Sauce actually has some flavor to it, and isn't just adding heat to a dish with a mix of peppers and vinegar. The sauces blend of habanero peppers, carrots and lime juice give your dishes a hot kick with a zesty tang of citrus!"
VERIFIED PURCHASE
What's the word?
"Tabañero has the best Bloody Mary mix! Perfect flavor and spices with a freshly crushed texture. Even my friends who say they do not like Bloody Mary's admit they like this mix."
VERIFIED PURCHASE
What's the word?
"Yummy hot sauce! I love the heat and the depth of flavor and spices in Tabanero Hot Sauce. But the thing I loved the most was that it does NOT have any vinegar in it! You have a pure hot sauce with a hint of sweet, and all the ingredients are natural too. Definitely a winner!"
VERIFIED PURCHASE
What's the word?
"Yummy hot sauce! I love the heat and the depth of flavor and spices in Tabanero Hot Sauce. But the thing I loved the most was that it does NOT have any vinegar in it! You have a pure hot sauce with a hint of sweet, and all the ingredients are natural too. Definitely a winner!"
VERIFIED PURCHASE