Falafel Burger
Regular price
$0.00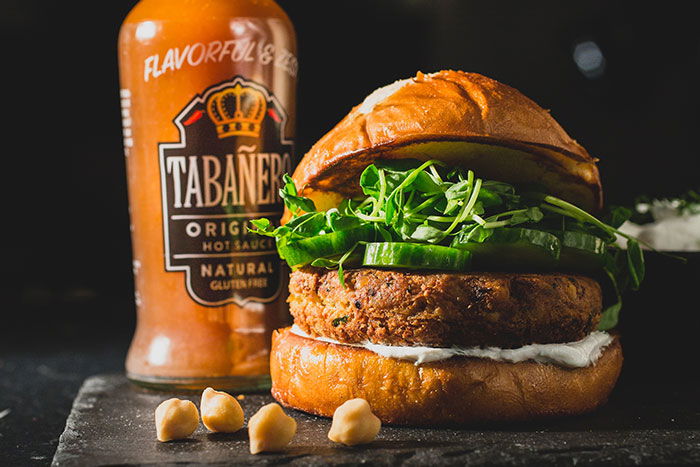 Recipe crafted by Chef Bobby Flay



3 cups dry chickpeas, soaked overnight
2 shallots, rough chopped
1⁄4 cup parsley, chopped
6-8 garlic cloves, roasted
1 tablespoon ground cumin
1 teaspoon ground cardamom
3 oz Tabañero Original hot sauce
Salt and pepper to taste
Flour, as needed
2 cups grape seed oil
1 pretzel bun, toasted
1 package pea shoots or other
fresh sprouts
DILL YOGURT
1⁄2 cup Greek yogurt
1 tablespoon dill, chopped
CUCUMBER RELISH
1 Persian cucumber, sliced
1⁄2 cup rice wine vinegar
1 tablespoon sugar
1⁄2 cup warm water

1. COVER the dry chickpeas by 3-4 inches
of water and soak overnight. Drain and let
them dry completely.

2. MIX the vinegar, sugar and water in a
bowl. Stir in the sliced cucumbers, cover and
refrigerate until ready to serve.

3. COMBINE the chickpeas, shallots,
parsley, garlic, cumin, cardamom and Tabañero
Original hot sauce in a food processor and
pulse until a coarse paste forms. Season with
salt and pepper. Refrigerate until chilled, then
form into patties and dust lightly with flour.

4. HEAT the grape seed oil to 350oF in a
sauté pan and shallow fry until the patties are
golden brown and fully cooked in the middle.

5. DRAIN the patties on a paper towel and
season with salt.

6. STIR together the Greek yogurt and
chopped dill in a small bowl.

7. SPREAD the dill yogurt on the buns. Place
the falafel patty and top with the cucumber
relish and pea shoots.

What's the word?
"I love that Tabañero Hot Sauce actually has some flavor to it, and isn't just adding heat to a dish with a mix of peppers and vinegar. The sauces blend of habanero peppers, carrots and lime juice give your dishes a hot kick with a zesty tang of citrus!"
VERIFIED PURCHASE
What's the word?
"Tabañero has the best Bloody Mary mix! Perfect flavor and spices with a freshly crushed texture. Even my friends who say they do not like Bloody Mary's admit they like this mix."
VERIFIED PURCHASE
What's the word?
"Yummy hot sauce! I love the heat and the depth of flavor and spices in Tabanero Hot Sauce. But the thing I loved the most was that it does NOT have any vinegar in it! You have a pure hot sauce with a hint of sweet, and all the ingredients are natural too. Definitely a winner!"
VERIFIED PURCHASE
What's the word?
"Yummy hot sauce! I love the heat and the depth of flavor and spices in Tabanero Hot Sauce. But the thing I loved the most was that it does NOT have any vinegar in it! You have a pure hot sauce with a hint of sweet, and all the ingredients are natural too. Definitely a winner!"
VERIFIED PURCHASE