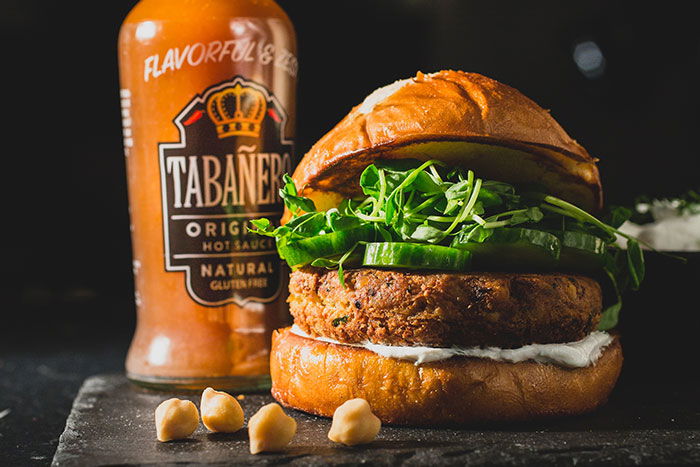 3 cups dry chickpeas, soaked overnight
2 shallots, rough chopped
1⁄4 cup parsley, chopped
6-8 garlic cloves, roasted
1 tablespoon ground cumin
1 teaspoon ground cardamom
3 oz Tabañero Original hot sauce
Salt and pepper to taste
Flour, as needed
2 cups grape seed oil
1 pretzel bun, toasted
1 package pea shoots or other
fresh sprouts
DILL YOGURT
1⁄2 cup Greek yogurt
1 tablespoon dill, chopped
CUCUMBER RELISH
1 Persian cucumber, sliced
1⁄2 cup rice wine vinegar
1 tablespoon sugar
1⁄2 cup warm water

1. COVER the dry chickpeas by 3-4 inches of water and soak overnight. Drain and let them dry completely.

2. MIX the vinegar, sugar and water in a bowl. Stir in the sliced cucumbers, cover and refrigerate until ready to serve.

3. COMBINE the chickpeas, shallots, parsley, garlic, cumin, cardamom and Tabañero Original hot sauce in a food processor and pulse until a coarse paste forms. Season with salt and pepper. Refrigerate until chilled, then form into patties and dust lightly with flour.

4. HEAT the grape seed oil to 350oF in a sauté pan and shallow fry until the patties are golden brown and fully cooked in the middle.

5. DRAIN the patties on a paper towel and season with salt.

6. STIR together the Greek yogurt and chopped dill in a small bowl.

7. SPREAD the dill yogurt on the buns. Place the falafel patty and top with the cucumber relish and pea shoots.