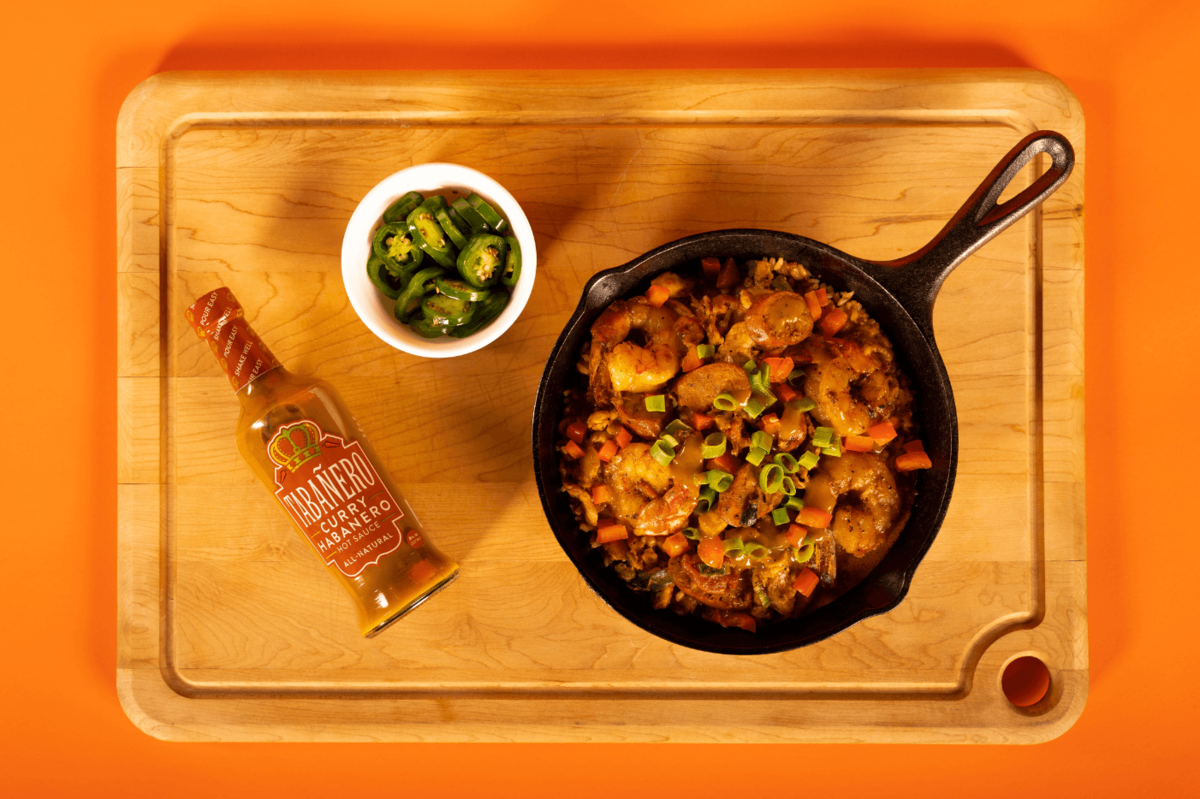 It's time to put your Cajun cooking skills to the test with the cozy New Orleans classic every shrimp and sausage fanatic knows and loves: jambalaya. With a dash (or four) of
Tabañero Curry Habanero Hot Sauce
, this delectable, spicy dish just got even hotter. A mouthwatering blend of sauces and seasonings combines to create a hot, hearty bowl that is good for the soul. Whether you need to whip up a weekday meal or want to conquer the cookout, this jambalaya recipe is a time-honored treasure with a Tabañero twist.
INGREDIENTS
4 tablespoons of cooking oil, divided
2 tablespoons Cajun seasoning of your choice
1 ½ cups white or brown rice
1 pound shrimp, peeled and deveined
10 ounces andouille sausage, sliced into rounds (Note: Mexican chorizo sausage is a good substitute if andouille sausage isn't available)
1 pound boneless, skinless chicken breast, cut into 1-inch pieces
1 red bell pepper, diced
1 yellow onion, diced
3 cloves garlic, minced
1 can crushed tomatoes
3 cups low sodium chicken broth
4 tablespoons Tabañero Curry Habanero Hot Sauce
2 teaspoons Worcestershire sauce
1 teaspoon salt
1 teaspoon freshly ground black pepper
If locally available, crawfish is an excellent addition!







INSTRUCTIONS
Heat 1 tablespoon olive oil in a large pot or Dutch oven over medium heat
Season the sausage and chicken with 1 tablespoon cajun seasoning
Brown the andouille sausage in the oil, set aside
Add additional tablespoon of oil and saute chicken until lightly browned, set aside
Add remaining oil to the pot and saute the red bell pepper and onion until the onion is transparent.
Add in the garlic and cook for one minute or until fragrant
Stir in the tomatoes
Add in Tabañero Curry Habanero Hot Sauce, remaining Cajun seasoning, Worcestershire sauce, salt, and pepper. Allow to simmer for 5 minutes while seasonings combine, stirring occasionally.
Add in rice and chicken broth. Bring all ingredients to a boil, then reduce heat to medium low and cover, allowing to simmer for 20-25 minutes while stirring occasionally.
Once rice is fully cooked, add in uncooked shrimp on top and stir into the jambalaya mixture. Cover and simmer for 5-7 minutes until the shrimp is pink and cooked through.
Season to taste with additional salt, pepper, and Tabañero Curry Habanero Hot Sauce.
Top with jalapeños or green onions if desired and enjoy!