Cajun Empanadas
Regular price
$0.00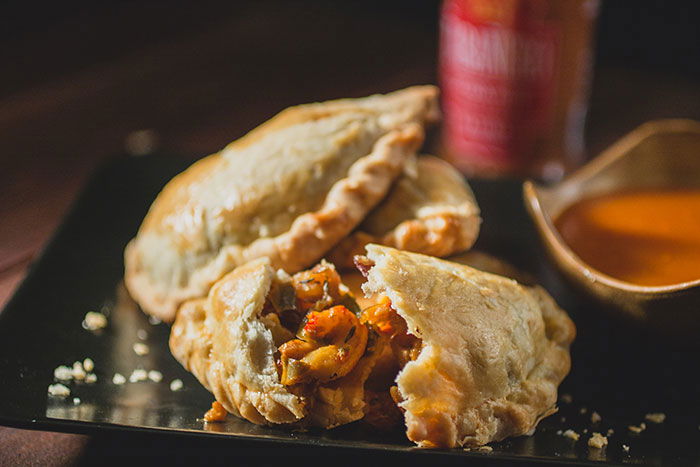 Recipe crafted by Chef Bobby Flay



FILLING
1⁄2 lb pancetta, diced
1 cup yellow onion, diced
1⁄2 cup green bell pepper, diced
1⁄2 cup celery, diced
1⁄2 teaspoon paprika
1⁄4 teaspoon garlic powder
1⁄4 teaspoon dried oregano
1⁄4 teaspoon dried thyme
1⁄4 teaspoon freshly ground black pepper
1 tablespoon flour
3⁄4 lb frozen cooked crawfish bodies, thawed and chopped
1 tablespoon Tabañero Extra Hot hot sauce
2 tablespoons heavy cream
DOUGH
3 cups all-purpose flour
2 teaspoons baking powder
11⁄2 teaspoons kosher salt
1⁄2 cup unsalted butter, cut into 1⁄2 inch pieces
ASSEMBLY
1 egg, beaten
Tabañero Extra Hot hot sauce for dipping
1. HEAT a large sauté pan over medium heat.
Add the pancetta and cook until the fat has
rendered and the pancetta is golden brown.

2. REMOVE the pancetta, leaving the fat in
the pan, and return to the heat. Add the onion,
pepper and celery and sauté, stirring occasionally
until the onion is translucent, about 6 minutes.

3. ADD the paprika, garlic powder, oregano,
thyme and flour, cooking for 30 seconds. Add
the crawfish and cooked pancetta, stirring to combine. Cook for 2 minutes, stirring occasionally, then stir in the Tabañero Extra Hot hot sauce and cream.

4. COMBINE the flour, baking soda and salt in
a bowl. Cut in the butter using your hands so the
mixture is crumbly. Add just enough cold water
until the dough comes together, about 1 cup.

5. DIVIDE the dough into 2-inch balls and roll
them out into 4 1⁄2-inch circles. Lay the circles
onto a lightly-floured baking sheet.

6. HEAT your oven to 375 F.

7. MOISTEN the outer edge of a dough round
with water, then spoon 2 tablespoons of filling
into the middle. Fold the dough in half to form
an empanada, pressing the edges together. Fold
over the edge and finish by pinching little pleats.
Repeat with the remaining dough and filling.

8. PLACE the empanadas on a parchment
paper-lined baking sheet and brush with egg.
Bake until golden brown, about 25 minutes.

What's the word?
"I love that Tabañero Hot Sauce actually has some flavor to it, and isn't just adding heat to a dish with a mix of peppers and vinegar. The sauces blend of habanero peppers, carrots and lime juice give your dishes a hot kick with a zesty tang of citrus!"
VERIFIED PURCHASE
What's the word?
"Tabañero has the best Bloody Mary mix! Perfect flavor and spices with a freshly crushed texture. Even my friends who say they do not like Bloody Mary's admit they like this mix."
VERIFIED PURCHASE
What's the word?
"Yummy hot sauce! I love the heat and the depth of flavor and spices in Tabanero Hot Sauce. But the thing I loved the most was that it does NOT have any vinegar in it! You have a pure hot sauce with a hint of sweet, and all the ingredients are natural too. Definitely a winner!"
VERIFIED PURCHASE
What's the word?
"Yummy hot sauce! I love the heat and the depth of flavor and spices in Tabanero Hot Sauce. But the thing I loved the most was that it does NOT have any vinegar in it! You have a pure hot sauce with a hint of sweet, and all the ingredients are natural too. Definitely a winner!"
VERIFIED PURCHASE