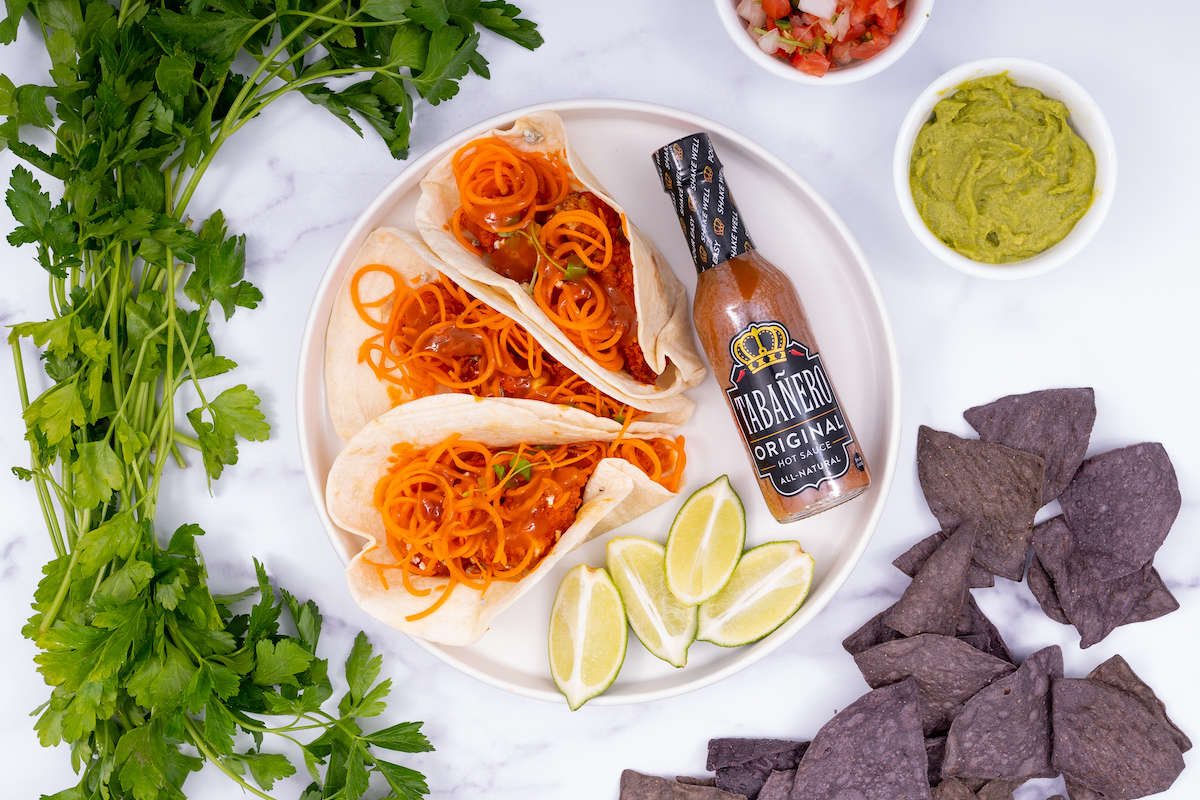 You've had buffalo chicken tenders before–but not like this. Tabañero's buffalo chicken tacos feature crispy fried chicken that's coated with an enticing homemade buffalo sauce and topped with fresh and tangy fixings. Now listen, our succulent strips would typically have even the most well-mannered eaters licking sauce off their fingertips, and with homemade buffalo sauce featuring
Tabañero Original Hot Sauce
, who could blame them? But we're innovators here at Tabañero. Harnessing forward-thinking food vessel ingenuity, we designed our buffalo chicken tacos to deliver every last drop of flavor straight into your mouth within a delicious flour tortilla that renders napkins obsolete. Much like man's discovery of fire and the invention of the wheel, Tabañero's buffalo chicken tacos will permanently alter the trajectory of society as we know it. You're welcome.
INGREDIENTS
2 lbs fried chicken tenders, bought pre-made or frozen
Shredded lettuce
Bleu cheese crumbles
Shredded carrots
Sliced celery
Green onions
One package flour tortillas
2-3 limes
For the Buffalo sauce:
2/3 cup Tabañero Original hot sauce
1 stick unsalted butter
1 tablespoon white vinegar
1/4 teaspoon Worcestershire sauce
INSTRUCTIONS
Peel and grate your carrots if you didn't purchase them shredded.
Cut celery and green onions into thin slices.
If you bought your fried chicken tenders frozen, prepare according to the packaging directions. You can skip this step if you purchased your chicken tenders already pre-made!
Make buffalo sauce by adding the unsalted butter, white vinegar, Worcestershire sauce, and Tabañero Original Hot Sauce to a small saucepan.
Bring to a boil while whisking.
Remove sauce from heat and transfer to a mixing bowl.
Add your fried chicken tenders to buffalo sauce and toss to coat evenly. Set aside.
Assemble your tacos by placing your tortillas on a flat work surface and portion the lettuce and buffalo chicken tenders evenly between each tortilla.
Top off each taco with the shredded carrots, sliced celery, green onions, bleu cheese crumble, and a squeeze of lime.
Drizzle some of our Original Sauce on top and serve hot!