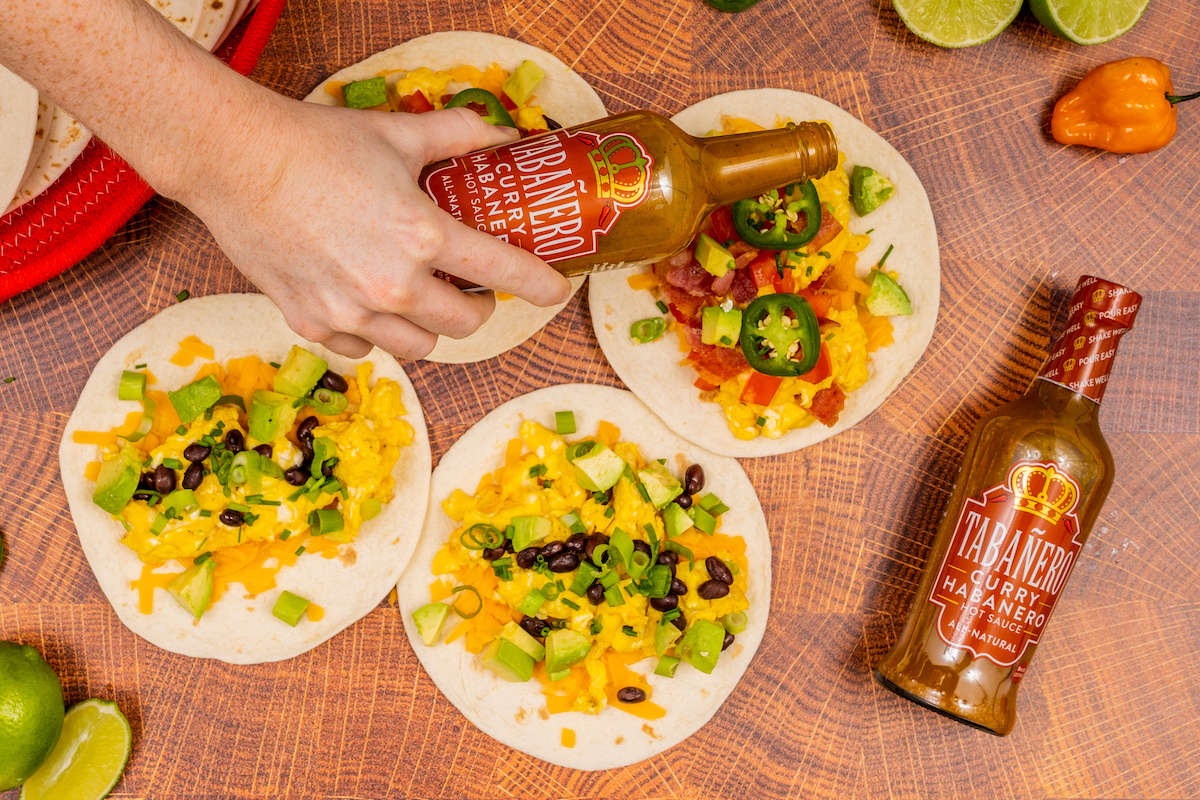 You know what softens the blow of waking up? Breakfast tacos. You can transform even the most nocturnal night owls into morning people with a generous drizzle of Curry Habanero Tabañero. 🤌 What's really stellar about tacos is that they cannot be confined by manmade time constraints. So while these are ~technically~ called breakfast tacos, you can literally have them whenever you want. No one can stop you.
INGREDIENTS
4 slices bacon
2 tbsp olive oil
8 large eggs
4 green onions, sliced with white and green parts separated
1 cup cheddar cheese, shredded
2 avocados, diced
1 tomato, diced
1 15 oz can black beans, drained and rinsed with water
1 jalapeño pepper, sliced
1 small bunch chives, finely chopped
4 flour tortillas
INSTRUCTIONS
Cook bacon in a pan on medium heat. Cook until crispy or as desired. Set aside on a paper towel.
Whisk eggs in a bowl. Set aside.
Heat olive oil in a skillet on medium heat. Add in white parts of the scallion and saute for just 1 minute.
Add eggs into the skillet, and turn heat to medium-low so eggs cook slowly. Use a spatula to gently turn the eggs. Cook until they are cooked through, but are still soft and pillowy.
Assemble the tacos. Lay each tortilla flat and begin with a sprinkling of cheese. Proceed by adding the eggs along with any other toppings such as pieces of crispy bacon, diced avocado and tomato, slices of jalapeño pepper and green onion, or a handful of black beans.
Sprinkle with chives and drizzle each taco with Tabañero Curry Habanero hot sauce. Serve immediately and enjoy!