Bloody Mary-Rubbed Ribeye Steak
Regular price
$0.00
Recipe crafted by Chef Bobby Flay



2 (1 1⁄2 inch thick) boneless ribeye steaks
1 cup Tabañero Bloody Mary Mix
2 teaspoons Tabañero Original hot sauce
HORSERADISH MASHED POTATOES
5 Yukon gold potatoes
1 lb unsalted butter
5 garlic cloves, minced
1⁄2 cup horseradish Sour cream
CHERRY TOMATO CELERY SALAD
6 celery stalks, with leaves
1⁄4 cup Italian flat leaf parsley, chopped
1 lb cherry tomatoes, halved
1⁄4 cup Worcestershire
1⁄2 cup apple cider vinegar
2 cups olive oil
Salt and pepper to taste
1. PLACE the steaks in a large mixing bowl. Add the Tabañero Bloody Mary Mix and Original hot sauce, rubbing the marinade into the steaks. Cover and marinate for at least 30 minutes. Meanwhile, make the mashed potatoes and salad.
2. PEEL and quarter the potatoes, then rinse thoroughly with cold water.
3. PLACE the potatoes in a large pot and cover with cold water. Bring the pot to a simmer and cook for 40 minutes, or until the potatoes are fork tender. Drain the potatoes and return them to the pot.
4. ADD the butter and garlic to the potatoes and cover the pot until the butter is melted.
5. MASH the potatoes, adding horseradish, salt and pepper to taste.

6. COMBINE the Worcestershire sauce and apple cider vinegar in a blender, slowly adding the olive oil and lemon. Add salt and pepper to taste.
7. REMOVE the leaves from the celery stalks and set aside. Cut the stalks into 6 inch pieces. Use a vegetable peeler to peel the celery into ribbons.
8. COMBINE the celery leaves, celery ribbons, tomatoes, and parsley in a bowl. Toss with the Worcestershire dressing and set aside.
9. COAT a heated pan with olive oil and cook the steaks, flipping frequently for about 10 minutes or until they reach your desired temperature.
10. PLATE the steaks and top with salad. Serve with mashed potatoes topped with sour cream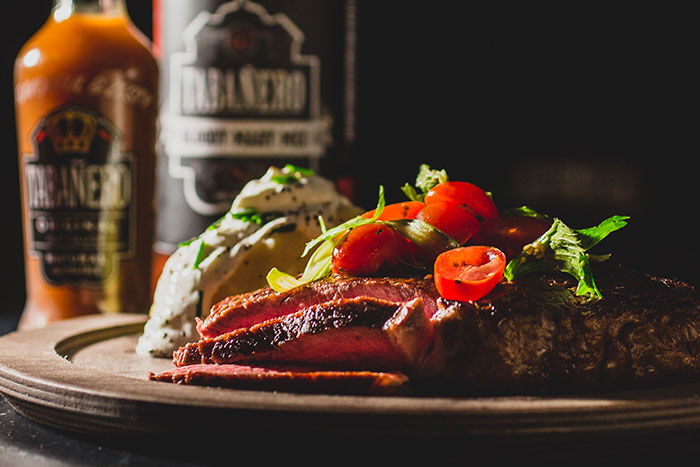 What's the word?
"I love that Tabañero Hot Sauce actually has some flavor to it, and isn't just adding heat to a dish with a mix of peppers and vinegar. The sauces blend of habanero peppers, carrots and lime juice give your dishes a hot kick with a zesty tang of citrus!"
VERIFIED PURCHASE
What's the word?
"Tabañero has the best Bloody Mary mix! Perfect flavor and spices with a freshly crushed texture. Even my friends who say they do not like Bloody Mary's admit they like this mix."
VERIFIED PURCHASE
What's the word?
"Yummy hot sauce! I love the heat and the depth of flavor and spices in Tabanero Hot Sauce. But the thing I loved the most was that it does NOT have any vinegar in it! You have a pure hot sauce with a hint of sweet, and all the ingredients are natural too. Definitely a winner!"
VERIFIED PURCHASE
What's the word?
"Yummy hot sauce! I love the heat and the depth of flavor and spices in Tabanero Hot Sauce. But the thing I loved the most was that it does NOT have any vinegar in it! You have a pure hot sauce with a hint of sweet, and all the ingredients are natural too. Definitely a winner!"
VERIFIED PURCHASE