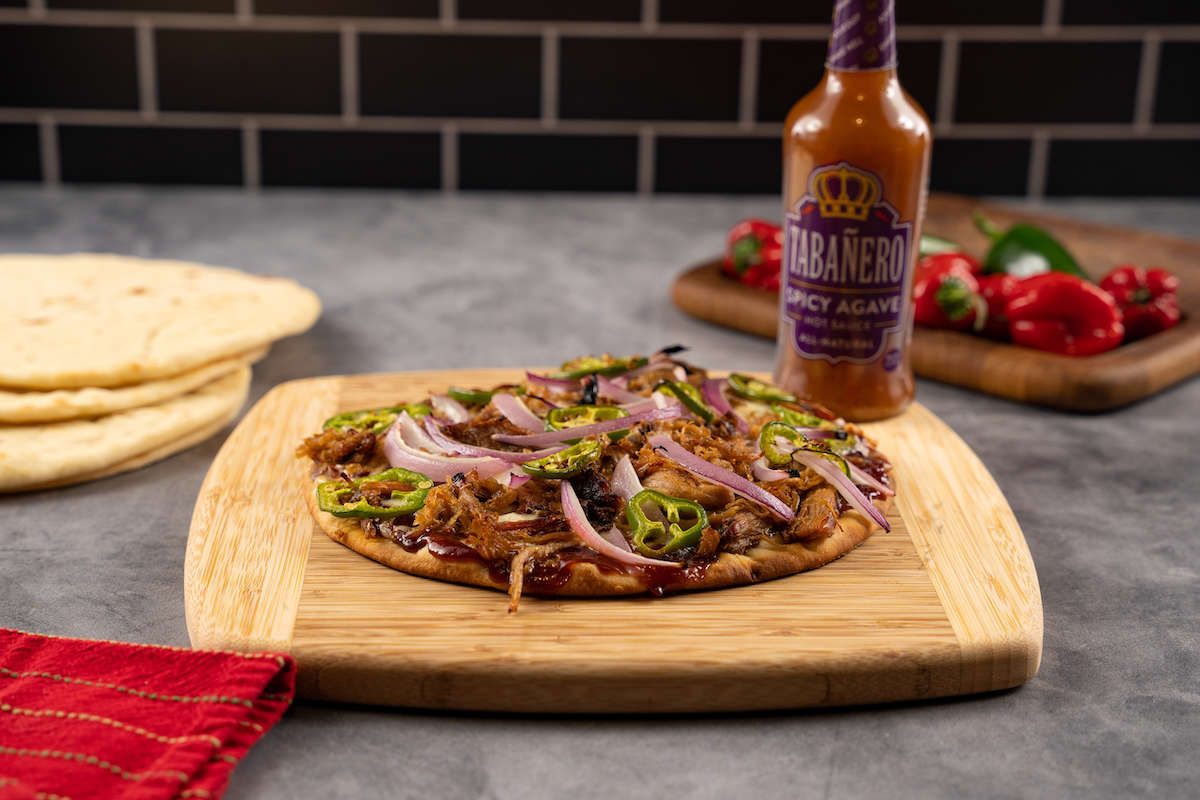 "The secret's in the sauce," you say? Well, secrets don't make useful recipes. At Tabañero, we have no saucy secrets. We're basically an open book…or an open bottle, rather. We've taken our top off, and we've gone wild. You'll lose your inhibitions, too, once you try this sweet and spicy BBQ pizza recipe. Blending
Tabañero Spicy Agave
sauce with your favorite barbecue sauce creates the perfect cohesive base for this pizza's star-studded cast of toppings. Our not-so-secret (but very special) sauce melds the flavors and textures of melty mozzarella, crisp red onion, savory pulled pork, and invigorating jalapeño. Tabañero's Blazin' BBQ Pizza is a mouthwatering dish that works double-time to satisfy your sweet tooth and savory cravings at the same time.
INGREDIENTS
This is for an 8.5" pizza crust. Adjust amounts according to the size of your pizza crust.

1/3 cup BBQ sauce (we recommend a smoky, sweet flavor but use what you like best)
2 tbsp Tabañero Spicy Agave hot sauce
1/2 – 1 cup Mozzarella cheese, grated
1/2 Small red onion, sliced
1/2 – 1 cup pulled pork (or use chicken if you prefer)
1 Jalapeño, sliced (optional)
INSTRUCTIONS
Preheat oven to 425°.
In a small bowl, add BBQ sauce and Tabañero Spicy Agave hot sauce. Stir to combine.
Spread the sauce mixture evenly onto the pizza crust.
Sprinkle the cheese onto the pizza.
Spread the pulled pork evenly onto the pizza.
Add sliced onions and jalapeños.
Cook for about 7-8 minutes at 425° or until cheese is golden brown.