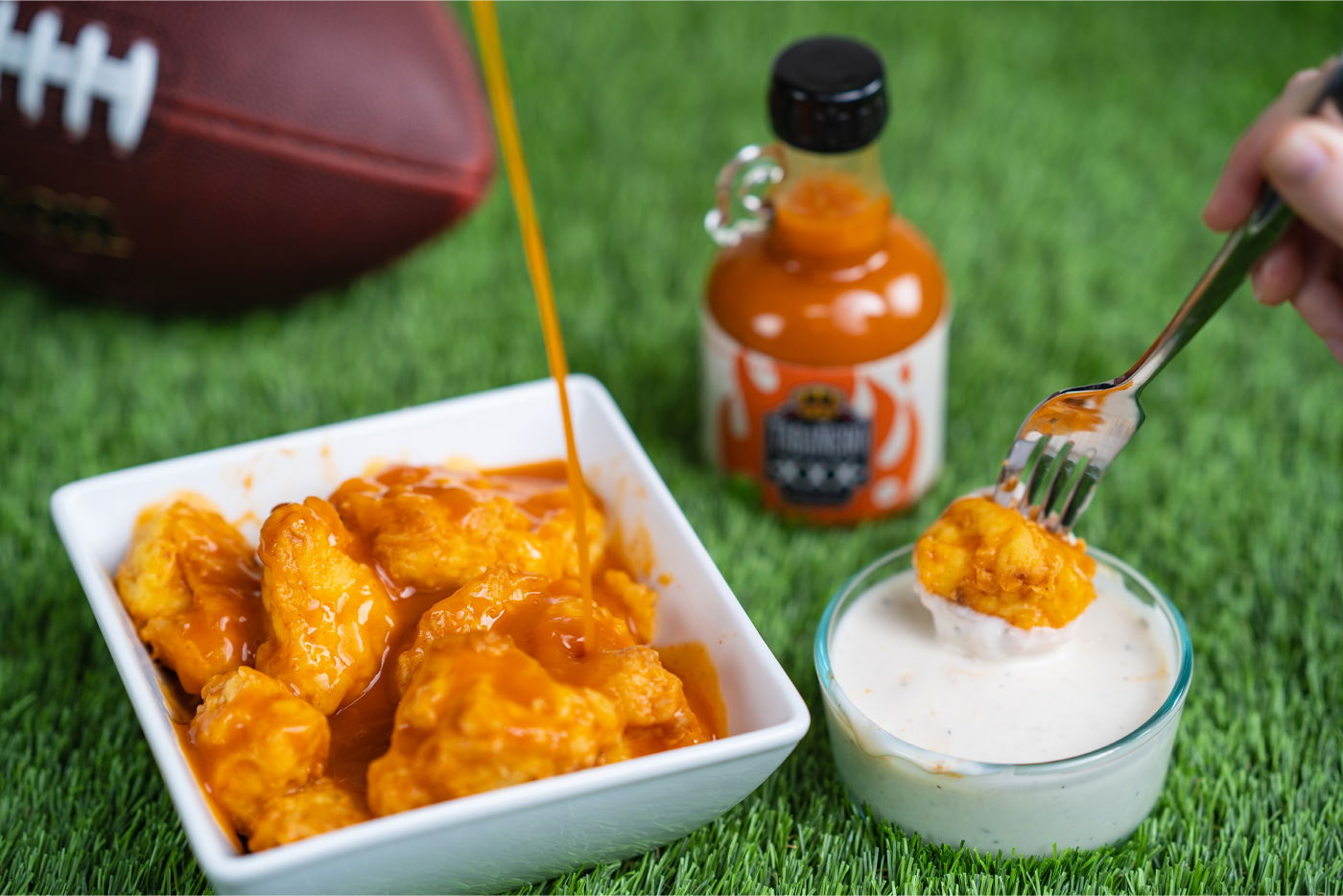 Cauliflower is having a big moment. Everyone's favorite veggie alternative also happens to be a superior vessel for heat-packed buffalo flavor. Glazed in our
Tabañero Limited Edition XXX Wing Sauce
mixture, these XXX Buffalo Cauliflower Bites are the life of every party. Chicken wings WISH they could be this light and spicy, but there's just no competing with these bad boys. Our cauliflower bites are air fried to crispy perfection and tossed in the most deliciously intense wing sauce you've ever tasted. Serve with a side of ranch or blue cheese dressing for guests who can't take the heat, and then tell them to get out of the kitchen.
2 cauliflower heads
1 cup flour
1 1/2 cup milk of your choice
1 tbsp garlic powder
1 tbsp paprika
1 1/2 tsp black pepper
1 tbsp salt
¼ cup melted butter

1 ¼ cup of Tabañero Limited Edition XXX Wing Sauce
Either preheat the oven to 450°F or an air fryer to 380°F and spray the pan/tray with nonstick cooking spray.


Divide the cauliflower heads into bite size chunks.


In a large bowl, combine flour, garlic powder, black pepper, paprika, and salt. Stir until combined, then add milk. Mix until batter is smooth.


Add cauliflower to bowl and toss until evenly coated.


Add the cauliflower to the air fryer or oven and bake for 15 minutes, flipping halfway. Check after 15 minutes and continue cooking for 3-5 minutes. Batter should be golden and crispy.


Remove from oven/air fryer and set aside to cool. In a small bowl, combine melted butter and Tabañero XXX Wing Sauce. Whisk thoroughly until combined.

Toss cauliflower bites in the hot sauce mixture and serve immediately with ranch or blue cheese dressing.