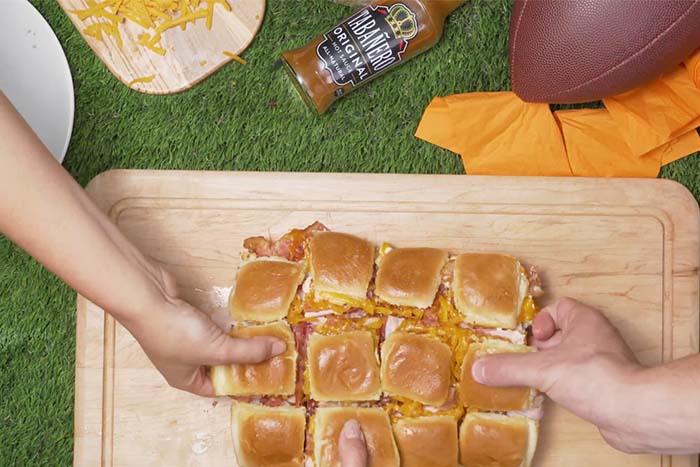 It's pretty obvious you shouldn't tailgate without Tabañero. These spicy sliders are loaded with crispy bacon, juicy turkey, and cheddar cheese and are perfect for football fans on the go. Just like our
Original sauce
, these sliders are crazy addictive and are sure to satisfy the whole team.
Makes 12 Sliders
½ pound cooked bacon
½ pound smoked, sliced turkey breast
12 sweet Hawaiian rolls
1 ½ cups of shredded cheddar cheese
½ cup mayonnaise
3 tbsp Tabañero Original Hot Sauce
1 tsp smoked paprika
1 tsp garlic powder
3 tbsp butter
Flaky salt for topping
Preheat oven to 350 degrees


Slice Hawaiian rolls in half but keep as one large piece. Do not separate rolls.


In a small bowl, combine mayonnaise, Original hot sauce, paprika, and garlic powder


In a separate small bowl, heat butter in the microwave for 30-40 seconds, or until melted.


To assemble the sliders, place the bottom of the rolls on a lined baking sheet. Top with mayonnaise mixture, then add the turkey slices, bacon, and cheddar cheese. Top with the other half of the rolls.


Drizzle melted butter over the sliders and top with flaky salt.


Cover loosely with foil and bake for 10-15 minutes or until the cheese is melted. Uncover and cook for 5 more minutes until top of the rolls have browned.


Slice into individual sliders and serve immediately.