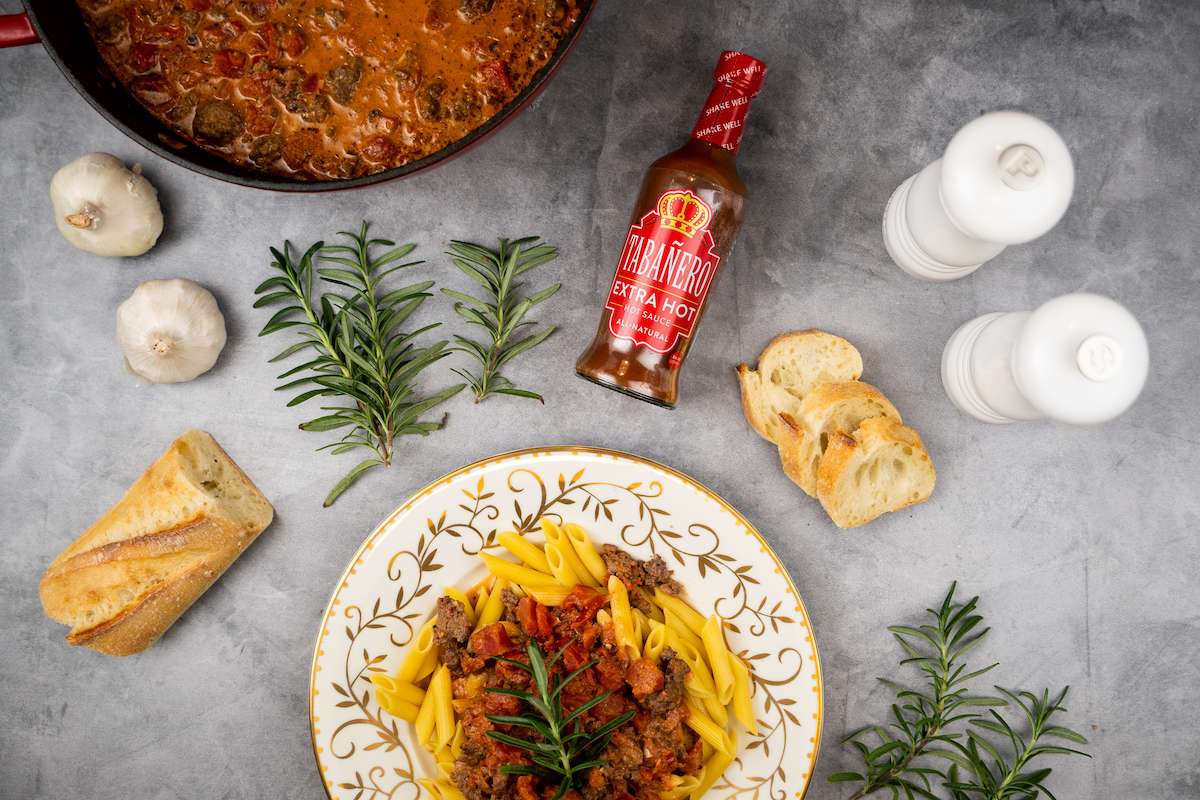 Let's rage with sage! (And also with a medley of other herbs that elicit more demure rhymes.) This entree's earthy base of red pepper, sage spice, bay leaves, and rosemary sets a fragrant tone for meaty sausage penne that's sure to please. As the sage sausage sizzles playfully among the herbs, you'll add red onion, garlic, and olive oil into the mix. Diced tomatoes? Add them too. Things are really heating up–can you feel it? With a dash of red wine, inhibitions evaporate. Now's the time to drizzle
Tabañero's Extra Hot
into your simmering sauce, catapulting the flavor from sensual to downright sinful. Heavy cream and parmesan cheese round out the satisfying spices of the sauce so that every bite of pasta is saturated with flavor. So, are you ready to get a little spicy?
INGREDIENTS
1 lb pork sausage, sage flavored
1/4 tsp red pepper flakes
1/4 tsp sage (dry spice)
2 bay leaves
1 tsp fresh rosemary, minced
1 tbsp olive oil
1 small red onion, chopped
4-6 cloves garlic, minced
3/4 cup red wine
3 14.5 oz cans diced tomatoes (seasoned with oregano, basil, garlic)
1 cup Tabañero Extra Hot sauce
3/4 cup heavy cream
3/4 cup parmesan cheese, grated
Salt and pepper to taste
1 lb penne noodles
INSTRUCTIONS
Brown the sausage, breaking it into small pieces.
Add red pepper flakes, sage spice, bay leaves, and rosemary.
Move meat to the edges of the pot. In the center of the pot, add olive oil, then onion and garlic. Cook down for a few mins until onions are soft, making sure not to burn the garlic. Stir to combine.
Remove bay leaves.
On high heat, add the red wine and let it cook down for a few minutes, stirring occasionally.
Add cans of diced tomatoes. Turn heat down and let simmer for a few minutes.
Add Tabañero Extra Hot sauce and stir to combine.
Add cream and allow sauce to simmer for 2-3 minutes.
Add parmesan cheese and allow sauce to cook down for another 2-3 minutes.
Serve over penne noodles, cooked to your liking (al dente is recommended). Enjoy!