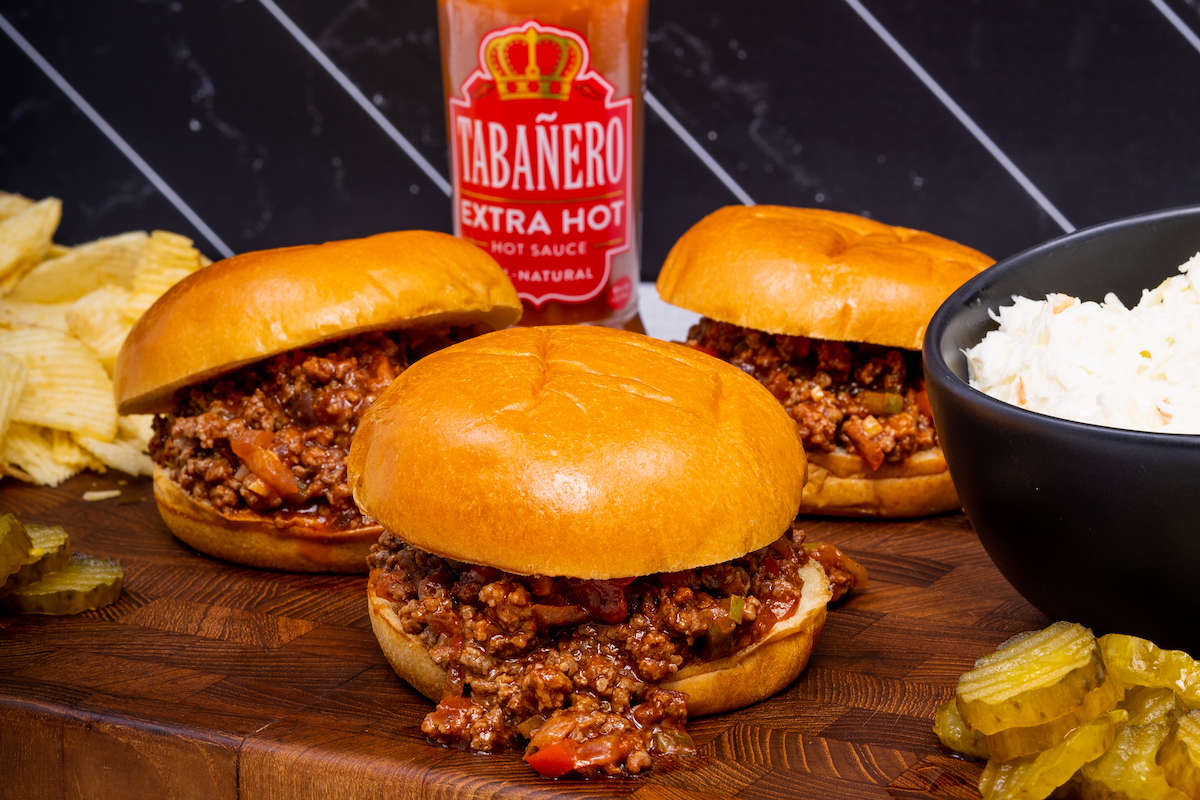 Listen, if the Joes aren't hot and sloppy, we don't want them! And based on how quick y'all were to trade in your prim and proper sandwiches for our spicy, gluttonous Joes, a lot of you also enjoy getting messy. We can't blame you. 😏
INGREDIENTS
1 1/2 lbs lean ground beef
1 tbsp olive oil
1/2 onion, finely chopped
1/2 red bell pepper, finely chopped
1/2 green bell pepper, finely chopped
6 garlic cloves, minced
16 oz can tomato sauce
2 tbsp Tabañero Extra Hot sauce
1 tbsp brown sugar
1 tbsp Worcestershire sauce
1 tsp yellow mustard
1/2 cup water
1/2 tsp salt
1/2 tsp black pepper
4 brioche hamburger buns, toasted
INSTRUCTIONS
Finely chop the onion. Seed and finely chop the peppers. Set aside for later.
In a bowl, combine the tomato sauce, Tabañero Extra Hot sauce, Worcestershire sauce, mustard, brown sugar, and water. Set aside for later.
In a large skillet, and on medium heat, saute the beef until thoroughly cooked through, breaking it up with a spatula as it's cooking. Once beef is done cooking, remove meat from the pan.
In the same large skillet, add the olive oil along with the peppers, onion, and garlic. Lightly saute them for just a minute or two.
Add the meat back into the skillet. Season with salt and pepper, and stir to combine.
Add the tomato sauce mixture to the meat and vegetables. Mix well and allow the meat and tomato sauce combination to simmer on low heat for about 10 minutes.
Serve on lightly toasted brioche hamburger buns.