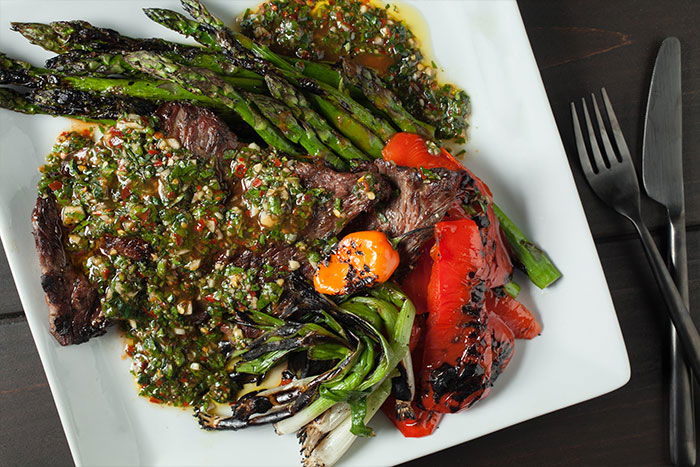 4 each 8 oz. skirt steaks
1 lb. of your favorite market vegetables, sliced into ¼ inch thick slices (zucchini, squash, bell peppers, asparagus)
1 cup parsley, finely chopped
½ cup extra virgin olive oil
½ - 1 cup Tabanero Original Hot Sauce
¼ cup oregano, finely chopped
5 garlic cloves, minced
1 teaspoon dried crushed red pepper flakes, or to taste
1 teaspoon kosher salt
½ teaspoon fresh cracked black pepper
garnish
1. To make the chimichurri combine the parsley, extra virgin olive oil, hot sauce, oregano, garlic, red pepper flakes, kosher salt and fresh crack black pepper in a bowl then transfer to container with lid. Refrigerate and let sit at room temperature 30 minutes.
2. Season vegetables with salt and pepper to taste then toss with ¼ cup chimichurri sauce, let marinate 30 minutes to 4 hours
3. Season steaks with salt and pepper to taste then toss with ¼ cup chimichurri sauce, let marinate 30 minutes to 4 hours
4. Prepare a hot grill and cook vegetables and steak to desired doneness. Keep vegetables warm and let steak rest 5 minutes
5. Arrange vegetables and steak on plates or a family style platter and serve with extra chimichurri