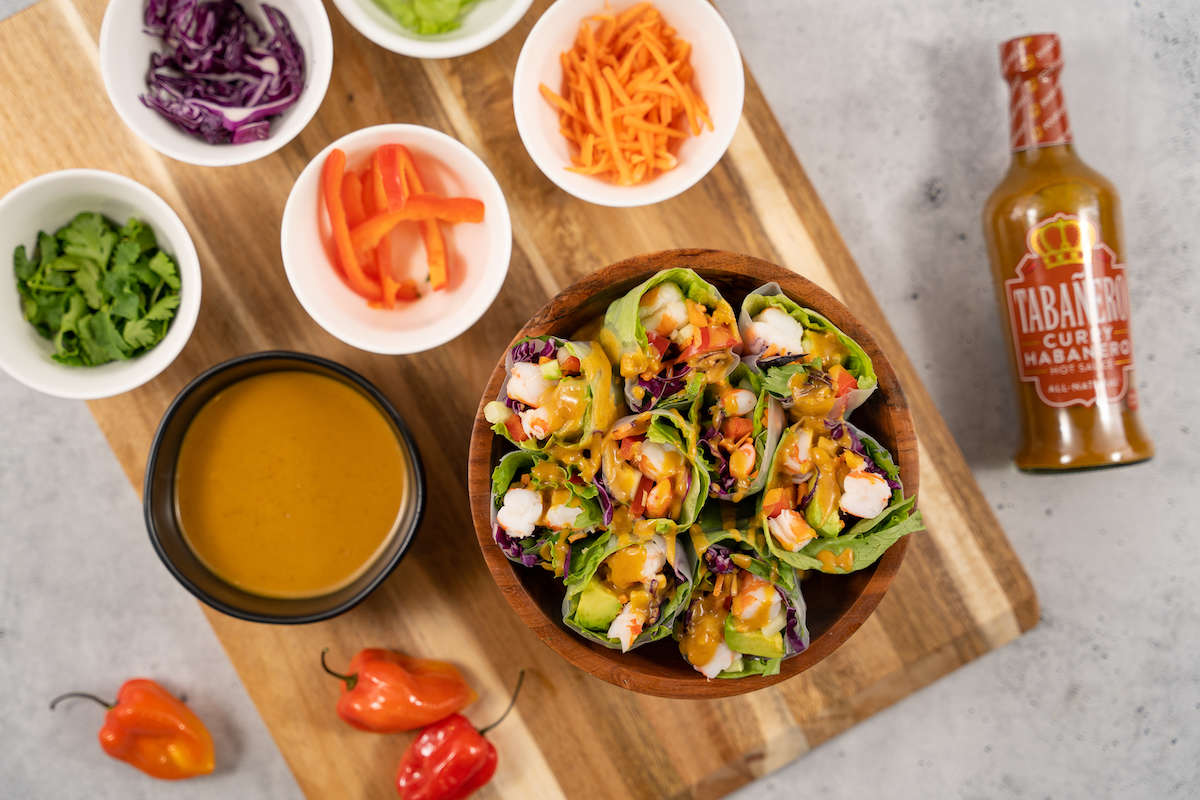 If you're looking for a crowd-pleasing appetizer, spring right into these deliciously spicy rolls. You haven't experienced dipping sauce until you've tried this one–bold, slightly sweet peanut satay meets a worthy contender with our
Tabañero Curry Habanero
. The two flavors mingle to create a tingly, complex, and satisfyingly spicy peanut sauce that will make your mouth water. Each roll is filled with fresh shrimp, crisp veggies, rich avocado, and refreshing mint, making it the perfect vessel for this one-of-a-kind sauce. We dare you to find a more flavor-packed spring roll than these. (You won't.)
INGREDIENTS
For Spring Rolls:
4 Rice paper wrappers
8 Shrimp, cooked, peeled, and deveined
8 Lettuce leaves
2 Avocados, sliced into strips
1 Red bell pepper, sliced into thin strips
1 cup Carrots, shredded
1 cup Purple cabbage, shredded
1 Cucumber, peeled, cored, and cut into thin strips
1/2 cup Mint leaves, cut into thin strips
For Spicy Peanut Dipping Sauce:
1/4 cup Peanut Butter
3 tbsp Tabañero Curry Habanero sauce
2 tbsp Soy sauce
1 tbsp Toasted sesame oil
2 tbsp Rice vinegar
1 tbsp Honey
2 tbsp Water
1/2 tsp Fresh ginger, minced
2 Cloves garlic, minced
INSTRUCTIONS
Prepare the rice paper wrapper by submerging it in a bowl of warm water until softened, usually about 30 seconds.
Place the rice paper wrapper completely flat on a cloth or board.
Add 2 lettuce leaves as your base, two pieces of shrimp, and a few strips of each of the following: avocado, red pepper, carrots, cucumber, purple cabbage, and mint. Do not overstuff your roll, keeping about 2 inches of the wrapper uncovered on each side.
Begin to roll the wrap, folding the uncovered sides inward, then complete the roll. Rice paper is fragile and dries quickly so try to work quickly!
Repeat the process to make 3 more rolls.
Wet the blade of a sharp knife and cut the rolls in half. Place rolls in a bowl, cut side up.
In a small bowl, combine all of the ingredients for the peanut dipping sauce. Add more Tabañero Curry Habanero sauce if you prefer some extra kick.
Drizzle this spicy peanut sauce onto your spring rolls or dip them in the sauce for a mouthwatering bite!