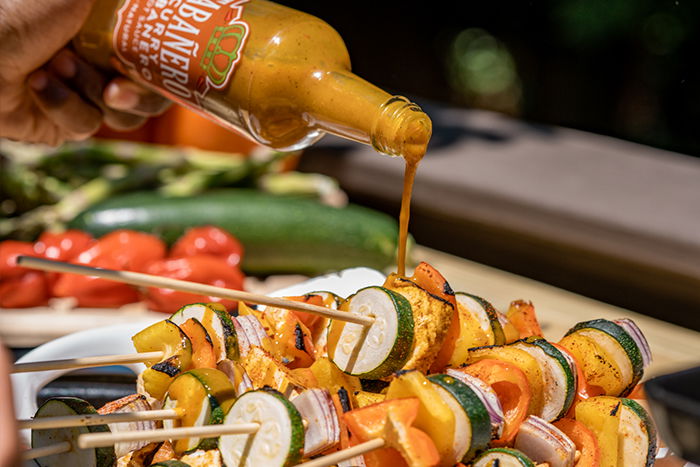 Bring on those balmy evenings! We are welcoming summer nights the only way we know how--dining al fresco with dishes featuring all of summer's finest ingredients. With all the summer veggies you could imagine and our Curry Habanero Hot Sauce, these Spicy Curry Tofu Skewers are full of flavor and make the perfect addition to any summertime picnic, poolside hangout, or backyard potluck. Plus, this dish is packed with healthy protein and 100% vegan ingredients, which means you can feel good about satisfying those curry-induced cravings!
14oz extra firm tofu
1 Red Onion
3 Bell Peppers (we used orange, red, and yellow!)
2 Zucchinis
¼ cup of Tabañero's Curry Habanero sauce, plus more for drizzling
Avocado Oil
10 long skewers
Line a baking sheet with paper towels and press as much moisture as possible out of the extra-firm tofu.


Cut tofu into 1.5 inch cubes and place in a bowl. Add Curry Habanero sauce and toss until all tofu is coated. Set aside to marinate.


While the tofu is marinating, chop the bell peppers, red onion, and zucchinis into bite size pieces.


Assemble the skewers by alternating tofu and vegetables until the skewers are full. Leave about 4-6 inches on the end for easier grilling.


Coat your grill (or pan!) with avocado oil.


Grill the skewers over medium-high heat, rotating when the vegetables and tofu are slightly charred.


Once all 4 sides are charred, remove from heat and place aside to cool.


Before serving, drizzle a light coating of additional Curry Habanero sauce for a little extra kick!