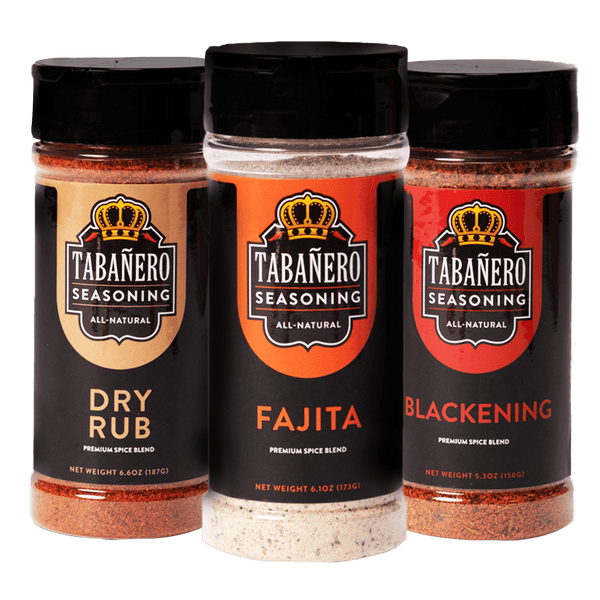 The Ultimate Griller's Pack
If you are a grill connoisseur, this is the seasoning pack for you. It includes our Dry Rub Seasoning, Fajita Seasoning, and Blackening Seasoning. 
Dry Rub Seasoning
Fire up the grill! This perfect blend of proprietary spices brings the flavor to every backyard barbeque or summertime grill out. Whether you're the king of the grill or you're dining in the presence of one, you won't want your plate without this sweet and smoky flavor. Apply generously for best results. 

Fajita Seasoning
Give every fajita-inspired plate an upgrade with flavor that sizzles just right! In true Tabañero fashion, this south-of-the-border blend of spices and heat takes your chicken, steak, and pork to the next level. You have our royal permission to put this seasoning on everything.
Blackening Seasoning
Bring a little bit of bayou royalty to your kitchen. This hand-crafted seasoning is exactly what your seafood and meat dishes are missing. All you need is a dash of our Blackening "Geaux" Seasoning to add that authentic Lousiana-inspired taste to any meal. It doesn't bite too hard… as long as you bite back harder.