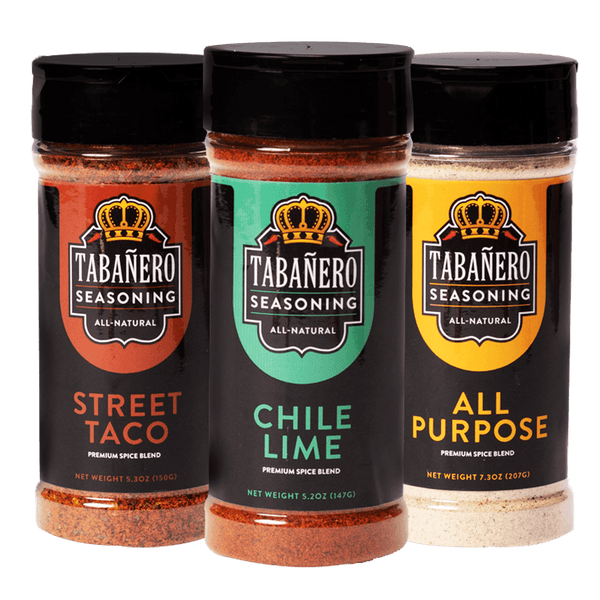 Turn up the zest and turn up the spice with our Let's Fiesta Pack. This pack includes Street Taco Seasoning, Chile Lime Seasoning, and All Purpose Seasoning.
Street Taco Seasoning
Give your traditional taco night a twist with Tabañero. A proprietary blend of spices makes every Taco Night a real fiesta. Roasted cumin and coriander along with sea salt offer a truly drool-worthy taste that can only be found when you eat like kings and queens with Tabañero. 

Chile Lime Seasoning
Take things up a notch with a true taste of royalty! As one of the most dynamic duos of all time, the sweetness and heat of our chile lime flavor just belong together. Tabañero's unique blend of lime, habanero pepper spice, and salt makes this classic flavor a true pantry staple.

All Purpose Seasoning
Our All-Purpose "Anytime" Seasoning is made for kings and queens alike. As the name implies, this seasoning tastes good on anything at any time of the day. Sprinkle it over your scrambled egg to add just the right amount of kick to the classic breakfast, or use it atop your meats and veggies for a flavor that makes or breaks your dinnertime menu. You name it, we season it.